A lot of news and notes in Bachelor Nation since we last spoke, no? Man, seems like a ton of new stories and topics to talk about and it's been less than a week since we went over things. Also, I've pretty much resigned myself to the fact that having "Reader Emails" on Tuesday, because recaps are Wednesday's during "Bachelorette," means we're just gonna have less than we normally do. I'll still remind people on IG every Monday to get your Reader Emails in for the next day, but when recaps are on Tuesdays (like after the New Year when Bachelor starts), and I remind people in that column, so many more come in on Tuesday's to appear the next day. We don't have a ton today, and a few were sent in right after last Wednesday's column so people wouldn't forget. But yeah, I remember last year when we had to do this because Clare/Tayshia's season was the first one to ever air on Tuesday nights and we pretty much had the same issue. People forgot to have the emails in by Tuesday. Oh well. We've got a few today and we march on. But first, lets get to some of the latest news in Bachelor Nation shall we?
Here's something I wanted to pass along. Make of it what you will. I've had a couple different people contact me in recent days saying they know women who've been contacted by Bachelor production about being on the "Bachelor," yet they're being told filming starts in January. This brings up a myriad of questions, none of which any of us have answers to at the moment:
-The Bachelor for at least the last 10-12 years has filmed in Sept, ended in November, and started airing first Monday in January.
-Is this a situation where they're thinking of adding a second Bachelor season to the schedule? If so, they film in January, lets say it goes through mid March, but that's when Bachelorette usually starts filming? Does that continue? Is it pushed back?
-When would this particular season air? And if it airs in March right after Clayton's season ends airing, then when would Bachelorette film and air?
-Is what I'm hearing even true? These aren't former contestants that are being told this, so it doesn't seem like a Winter Games situation. When they did Winter Games, it was filmed in the first couple weeks of December and aired in 2 weeks in February opposite the real Winter Games. This doesn't sound like that, but again, this is all news I just heard from two different people in the last week.
So right now, I don't really know what this is or if it's even a real thing. But I'm keeping it on my radar and I'll let you know if anything more comes of it.
I guess the biggest news came yesterday, and it was two-fold: in the morning, we found out that Chris Harrison and Lauren Zima got engaged and then in the afternoon, Katie and Blake announced their breakup. Lets start with Katie and Blake. I don't have a whole hell of a lot to add to it. Tons of you asked me if I knew it was coming or what not. Look, I hear stuff all the time about almost all contestants and couples from this show. It's never ending. Most stuff I don't even follow up with because I don't concern myself with the couples usually once the show is over. Yeah I heard stuff about them, but nothing I ever stopped down to do an in depth search on. Same with other couples. It sucks, breakups aren't fun, and now they have to deal with the backlash from crazy ass fans who want to know every detail of everything.
I think the thing I found most odd about their breakup was just that on Saturday, US Weekly ran a story about how Katie and Blake navigate their relationship. Then two days later, they break up. I didn't think Katie gave the most uplifting quote about their relationship in that story, and maybe that should've been foreshadowing. I say it every season and will continue to say it. To me, these couples are just two people dating until they move in together. That's when it becomes serious to me, regardless of if they're "engaged" by show standards. But they're broken up now, I'm sure they're being bombarded by fans, and now within days I'm sure Ducks Moy will have some anonymous story about the details of their breakup, all which people will immediately buy and ask me if it's true. I can say it til I'm blue in the face, but I know it's not going to matter. Stop sending me Ducks Moy stories. Their site literally site on both their IG account bio and website that information they publish is not based in fact. I don't know what more proof you need to know not to believe everything you read. And no, that wasn't Clare and Dale on a plane to Kentucky on 10/22 like Ducks Moy threw out there that got everybody talking yet again. Please. I can't with that account.
And oh yeah, the running joke making the rounds now about Blake joining Michelle's season…those can stop anytime now. Like, it's not even funny considering Michelle's season ended filming almost 2 months ago. So how could he be on her season? Yet someone in Bachelor Nation texted me this morning thinking it was true, so I guess the people who created that joke got what they were looking for. Uhhhhhh, no. Blake is not on Michelle's season.
Chris Harrison and Lauren Zima got engaged over the weekend. I don't think that's too much of a surprise to people who've followed them throughout the last few years. I think the most humorous thing to come from the engagement was the amount of shade Chris threw in this IG caption he wrote in the account of the guy who made his engagement ring: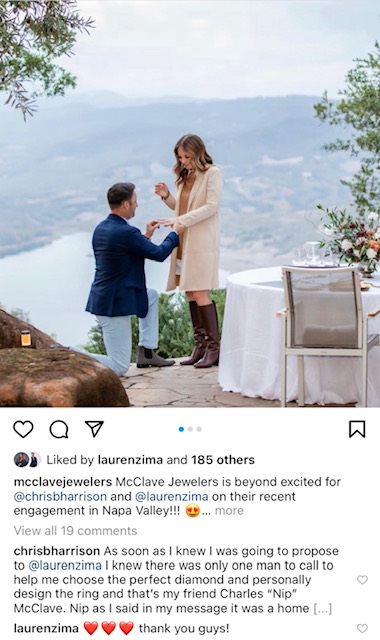 A clear shot at Neil Lane and the show to set it up like that and then tell us the "one guy" who HAD to make is ring is some dude none of us know nor did we ever associate with Chris Harrison. If you can't see that was a total dig at the show and Neil Lane, I don't know what to tell ya'.
A quick update on Clayton's filming. Before they started travel I told you they were headed to Houston, Canada, then Vienna and Croatia. Well you can flip flop Vienna and Croatia. They are finishing up in Croatia now and will head to Vienna tomorrow. 9 women went to Croatia, as 3 were eliminated in Toronto. Got all your dates and eliminations up to this point that I'll be releasing in the upcoming weeks. Vienna filming is happening this weekend, and locals can be a part of it, as I posted this yesterday:
(CLAYTON FILMING UPDATE): Theyre currently in Croatia (ep 6), then head to Austria (ep 7) in a few days. I originally had it Austria then Croatia.

Here's an email from a casting agency in Austria looking for extras on Thurs & Sat. Thank you to Google Translate for the help! pic.twitter.com/JQ7ekTx5Wh

— RealitySteve (@RealitySteve) October 25, 2021
As is always the case with overseas filming, it's hit or miss whether pictures get out. I saw somewhere that Clayton was on a 1-on-1 with Teddi, which makes sense finally since she was the first impression rose recipient and on Friday I'd tweeted she hadn't had a 1-on-1 yet. Up through Toronto, there'd been five 1-on-1's and a 2-on-1 (1 each in eps 2 & 3 in LA, 2 in Houston (we know publicly Serene got one of them), 1 in Toronto & then the 2-on-1). You'll know who got them soon enough when I break down your spoilers along with who was the early season villain before Shanae and what happened with that.
"Reader Emails" begins on Page 2…