Whew. What a long ass break I tell ya'. I feel like I haven't written in like two…weeks. For those not keeping score at home, we are beginning month 6 of a 9 month journey in Bachelor Nation where there's only been 2 weeks of breaks in between shows. It all started with Katie's season beginning on June 7th, then went straight into BIP mid-August, which ended on Oct. 5th. Then Michelle's season started up on Oct. 19th. It ended on Dec. 21, we had last week off, and here we are. Recharged and ready to go. And when I say "recharged" I mean the gas light is approaching "E" and there isn't a gas station within 200 miles. I'm running on fumes here. But I'll rally, we'll get through this season and then get our normal break. Well, break from programming until May, but "Bachelorette" will begin filming in mid-March the week of Clayton's finale airing, so they'll be on schedule as usual.
We are back on a normal schedule now with recaps on Tuesday, "Reader Emails" on Wednesday, and podcasts on Thursday. So get your "Reader Emails" in today to appear in tomorrow's column. We've got a few so far, but there is still room for more. As for the podcast, a lot of you seemed to take to Shayne's Part 1 interview last week. Part 2 coming this Thursday is all about her life post-show, and if you really liked Part 1, get ready for Part 2. She does not hold back at all and we dive into her marriage to Nik Richie, her recent divorce, The Dirty, and much, much more. I appreciate her honesty. Can't wait for you all to hear it.
For those that haven't been keeping up, all your episode-by-episode spoilers for Clayton's season UP TO THE FINAL 3 you can read here. I don't have your winner yet or how the final 3 shakes out. Once I do, you will know. It varies season to season, but hey, let the bitching begin. All the dates, roses, eliminations, drama up to the final 3 are already forgotten for the most part since I don't have the ending yet. That's why I've always said what I do is a thankless job. If I don't have the ending, people bitch. If I gave them only the ending and nothing else (kinda like I did for Michelle's season), they bitch I didn't have anything before it. Can't win for trying. You know more about Clayton's season heading into it more than the last 4 bubble seasons combined, and yet there are still those who aren't happy. Oh well.
Usually on the first recap of the season is where I promote this years annual Reality Steve Fan Appreciation Party in Vegas, which has normally been in the first weekend in June. However, not gonna do that this year. Not because there won't be a party because I'm sure there will be. I just don't know when it's gonna happen. COVID has forced me to cancel the last 2 years parties, so until we're a little further along about knowing more about Omicron, I'll wait and see what date to have the party this year. It might still be the first weekend in June. I just don't want to officially make that now, have people book travel plans, and then have another virus related issue pop up and I have to postpone or cancel it. Lets get a better handle on what's happening and then move forward. You'll have at least one month's notice, if not two, on when this years party will be. It's just really sucked having to cancel the last two years knowing how many people booked flights and rooms. I understand it was out of my control but doesn't mean it's still not upsetting. I would think by the time Clayton's finale rolls around mid-March, we'll have a better idea of what's going on with the virus.
A lot of questions regarding the Salley Carson drama pre-show last night. Again, this was all covered at the time of filming. But for those that weren't following during that time, here's what happened. Salley Carson was engaged to Avery Bucholz. Their wedding date was Sun, Sept. 26th. Salley was on her Bachelorette party in Mexico on the weekend of Aug. 14th. The women's bios were released on Sat., Sept. 25th and that's when I reported everything about the ex-fiance and their wedding date was originally supposed to be the next day. When Salley was in quarantine for this season, her Facebook picture was still a pic of her and Avery together. Avery was even making cryptic comments on Twitter that day when it was all reported, basically inferring they weren't even broken up. Then 2 months later, Salley and Avery were together at a friends 40th bday party in Mexico: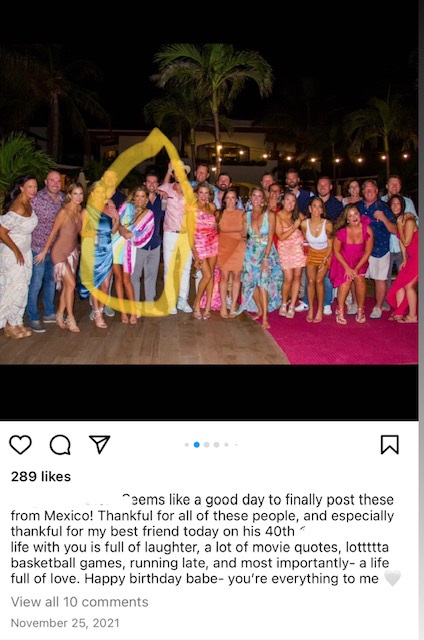 That's Avery in the middle of this pic, which was in the same batch on their friends IG page: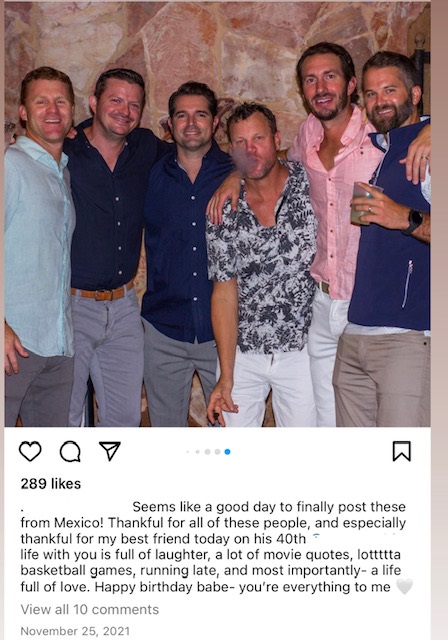 So honestly, just seems like these two were never really over, Salley probably tried to use the show to either get back at Avery or think she was over him, but she made the right decision in not accepting a rose, because clearly she wasn't. Just seems like a lot of drama there and really no point for her to go on the show. It didn't make sense then, and it doesn't make sense now. Yes, it's her life and she can do what she wants, but it wouldn't have been the least bit believable that someone who ended an engagement 2 weeks before showing up at the mansion would've been realistically ready to get engaged again 2 months later. Please.
Lets get to last night's recap on Page 2…