We are two episodes in to the new season of "Temptation Island" and as always we are joined by host Mark Walberg for a discussion on last night's episode, plus an overview of kinda what to expect this season – without spoilers of course. I don't know what happens so you won't be getting anything from me, but I certainly have some opinions based on these first two episodes. Mark always has such a unique perspective, and not just because he knows the results of what happens, but also because he views the show differently than us viewers. Before that, I touch on some Bachelor Nation subjects as I give my final thoughts on Clayton/Susie, tell you one of the locations the show is headed this season for the "Bachelorette," what I'm hearing about the filming format, where I don't think they're going, the unsubstantiated rumors of BIP being cancelled & more, which I briefly go over below. What's below is also the first 15 minutes of today's podcast. As always, if you'd like to respond to the interview, please include Mark's Twitter handle (@marklwalberg) in all your replies. Thanks again to Mark for coming on.
You can listen to today's podcast on a number of platforms, but you can also tune in by clicking the player below:

Subscribe: Apple Podcasts, RSS, Stitcher, Spotify
Music written by Jimmer Podrasky
(B'Jingo Songs/Machia Music/Bug Music BMI)
(SPOILERS) I begin by covering some topics in Bachelor Nation such as final thoughts on Clayton/Susie, one location I know they're filming for the "Bachelorette", the unsubstantiated rumors of BIP being cancelled, & more. Then Mark joins me (17:52) to talk about last night's episode of "Temptation Island," a breakdown of the four couples, and what to expect the rest of the season.
Twitter – @marklwalberg
Instagram – @marklwalberg
CampaignZero – link
8CantWait – link
PoliceScorecard – link
Notes from yesterday and some things covered on the podcast today:
-The potential men for the next season of the "Bachelorette" were released on the "Bachelorette" Facebook page yesterday. I was able to identify 34 of the 35 guys (Michael V. from Long Beach is the only last name and IG I haven't found yet), and they are on my Instagram feed for you to check out. Remember, not all of these men will make the final cast. Expect anywhere from 2-5 of them to be cut for whatever reason. Ever since they've been doing the cast releases early, at least 2 have never made the final cast.
-Filming begins Saturday night at the mansion.
-They will film in LA for 3 episodes then head overseas to Europe and film in Paris on their first stop. After that, I've heard of one other country but haven't gotten it confirmed. Paris is definitely confirmed, as filming starts there around the 7th, which lines up with the schedule of having 3 episodes in LA then heading to Paris.
-About a month ago this email was sent to me in regards to possible filming aboard a cruise ship this season: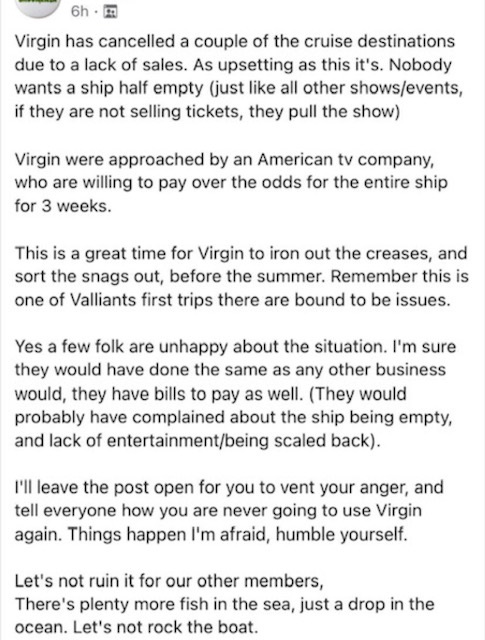 While it doesn't specify it's the Bachelor franchise that purchased this ship for filming, immediately that's what people thought. Knowing they're heading to Paris for episode 4, then I assume at least a couple more episodes in Europe, I'm not sure where the cruise filming would fit in. We know episode 7 is the episode before hometowns. Are they gonna do hometowns on the ship? Other episodes before hometowns? That would only leave one episode since I doubt they're going to Paris then turning right back around and coming to the states for cruise filming. Could that email be in reference to filming the new Love Boat reality dating show that just got picked up? We just don't know yet. I haven't heard any confirmation on the cruise ship being for "Bachelorette" filming. If I do, I'll let you know.
-In terms of the format of how this "Bachelorette" season will work, I've heard that hasn't been nailed down yet either. Will there really be 8 hometowns and 6 overnights (4 and 3 for each woman)? Is it gonna be Gabby and Rachel each get their own set of men, or will their be crossover? They still have a couple days to figure it out, but just because Double Shot at Love and other countries have done the two lead thing before doesn't mean the "Bachelorette" will copy them. Bottom line is we won't know until filming begins how exactly this season is gonna work. Once they do, I'm sure I'll start hearing stuff and I'll pass it along as soon as I do.
-Rumors started on TikTok about BIP being cancelled are totally false. Production has been asking around and starting early interviews about contestants for Paradise, so they wouldn't be doing that if there was no show. Paradise has always filmed from around June 7th-28th, and I haven't heard any differently for this season either. Everything is on filming schedule as in past years, it's just that "Bachelorette" pushed their premiere date of July 11th back around a month from Katie's premiere last season (June 7th), and about 6 weeks back from previous seasons, which all started either the last or second to last Monday in May. From everything I've heard, we know "Bachelorette" will premiere on July 11th, then Paradise will air right afterwards like it always does, just will be a little later than in years past.
Send all links and emails to: steve@realitysteve.com. To follow me on Twitter, it's: www.twitter.com/RealitySteve. Instagram name is RealitySteve, or join my Reality Steve Facebook Fan Page. Talk to you next week.