Well, it has begun already. Actually not yet, but in a few hours. "Bachelor in Paradise" is back for a season 8 and we have a record number of contestants this season. If you weren't following along with the spoilers back in June when this was filmed as I was giving them to you in real time while other accounts and gossip mongers were throwing out speculation, innuendo, and sometimes factually incorrect storylines, 44 different people show up at some point this season of Paradise, which is a record. I think it beat last season by 1. So having every single detail nailed down is impossible, but, you have almost everything you need to know in the spoilers. Now, those spoilers were posted in different ways back in June – either through IG lives, posts on the website, in my podcast, etc. What I'm gonna try and do sometime this week in mainline all of your BIP spoilers into one post so you don't have to search different posts here on the site. For now, if you want to read some of them, go to the "Spoilers" tab up top, the drop down will show Bachelor in Paradise – 8 and click from there. I will try and condense it into one post as soon as I can. And I mean, if a reader wants to help me with that, by all means, it'd be much appreciated.
Today's Daily Roundup has been posted where I talk about BIP starting tonight, the hype surrounding it (that will inevitably fade in a couple weeks due to overkill), Vanessa Esparsen issues an apology, more thoughts on Taylor dominating the BB finale, and the NFL is king.
You can listen to today's Daily Roundup on a number of platforms, but you can also tune in by clicking the player below:

Subscribe: Apple Podcasts,RSS, Stitcher, Spotify
Music written by Jimmer Podrasky
(B'Jingo Songs/Machia Music/Bug Music BMI)
-Kylee Russell is a nurse along with being a Charlotte Hornets dance. She was also the second runner up Miss North Carolina USA 2022 earlier this year.
-Olivia Miller used to date former "Bachelorette" contestant Mike Renner from Becca's season. There are even still pictures up on Mike's IG account of them together on a trip back in April. I got a few emails even telling me they thought they were still together. Just last month, Olivia posted this tweet: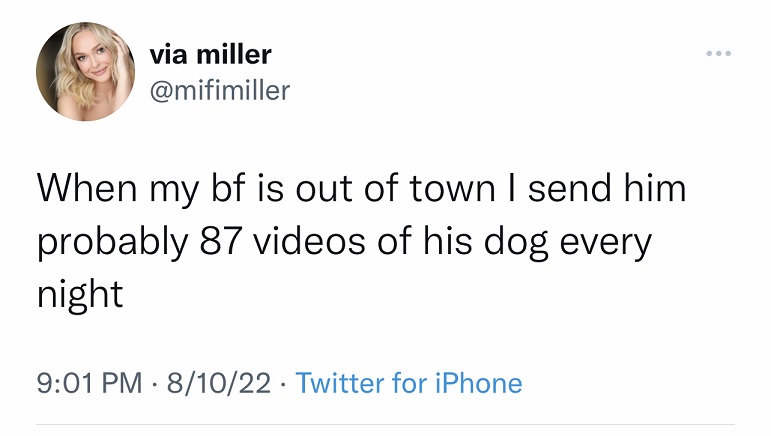 HOWEVER, they are no longer together, they broke up literally right after this trip, and there's no drama here. So anyone reporting otherwise is trying to stir the pot. How do I know? Mike was a former podcast guest years ago, so I texted him directly to find out what was true. His response was this:
"No, we broke up shortly after I got back from that (her tweet). Was up in Green Bay. She told me when casting reached out to her a week or so later. I guess she was one of the last ones. I told her I was fine with her pursuing it. Seemed like from talking to her wouldn't have done it if I was uncomfortable with it."
So there you go. It's a non story.
-Well here's something interesting. You already know that Cat Wong and Davia Bunch have a history in the Miss South Carolina pageant world. We've had the pageant history happen numerous times between contestants. But have we ever had two legitimate friends come on the season together? Gabriella Elnicki and Greer Blitzer were Pi Phi sorority sisters at the University of Mississippi. If that's not enough for you, Gabriella was Greer's BIG SISTER in Pi Phi. UPDATE: Hearing conflicting info about if they were big/little sisters. They were definitely both Pi Phi's at Univ. of Mississippi.
-Christina Mandrell & her daughter model for Pink Lily. Christina is also Barbara Mandrell's niece.
-Ben Higgins said on his podcast last week that Bailey Brown, one of the five who Zach met on stage at the ATFR, is one of his wife's best friends.
-Madi Johnson is friends w Elyse Dehlbom. Elyse used to do her makeup in pageants. Madi used to have photos on her IG of it that she deleted before going private.
-Victoria Jameson is divorced. I don't know any details behind it, but she has easily the most followers already of anyone on the show at 122k. She's a professional make-up artist in the Dallas area and I had a few people who follow her reach out to me saying she's talked about her divorce on her YouTube channel in the past. So it's known.
As we start BIP tonight, the six couples that made it to finale day and their results are as follows:
Brandon Jones & Serene Russell (engaged)
Johnny Dephillipo & Victoria Fuller (engaged)
Tyler Norris & Brittany Galvin (left as a couple, but have since broken up)
Michael Allio & Danielle Maltby (left as a couple)
Logan Palmer & Kate Gallivan (broke up)
Aaron Clancy & Genevieve Parisi (broke up)
There are other things I've heard post-filming that I'm still trying to confirm, but those are the 6 "main" couples at the end and what the result was on the show. And I will try to streamline all your BIP spoilers for the season into one post sometime soon.
Send all links and emails to: steve@realitysteve.com. To follow me on Twitter, it's: www.twitter.com/RealitySteve. Instagram name is RealitySteve, or join my Reality Steve Facebook Fan Page. Talk to you tomorrow.