I know there's one person who's thrilled about this Victoria/Johnny/Greg love triangle story breaking this weekend: Michael Allio. All anyone was talking about was how he handled the Sierra situation and now basically nobody is. That's on the back burner of this delicious treat Victoria is giving us. Man, drama seems to follow her around everywhere, no? But Michael was all the talk last week, now no one seems to care. Michael really went on the offensive over the weekend addressing all the criticism he's taken, including making it known that he really didn't know that Danielle was coming. Unfortunately, I don't believe that. Him saying that he "really had no idea" was showing up on the beach is just not believable to me. I guess he and I will have to agree to disagree on that take. He can't prove he didn't know and I can't prove he did. Well, I could I guess, but I'd be giving up sources and that's not gonna happen.
Again, I want to make this perfectly clear, this has nothing to do with shitting on his relationship with Danielle. I'm not saying, nor is anyone else saying, that he should be with Sierra over Danielle. Michael is happy with Danielle, and their pasts obviously give them a very common ground and understanding for each other that Sierra possibly couldn't feel because she hasn't had the type of loss they've had. So no one is questioning that. This is all about how he handled the Sierra breakup, the things he said didn't line up with his actions, and Sierra's reaction to him 4 months later on social media insinuate there was even more stuff he said that wasn't shown and she's just baffled. But now that Michael is admitting publicly he didn't know Danielle was coming, which was the one thing I'd want Sierra to flat out ask him at the BIP reunion, I guess he's standing by that. So I'm not sure where else this story is going.
One other topic that's coming up a lot over the last couple days is an IG story that Brandon posted and deleted. It was this: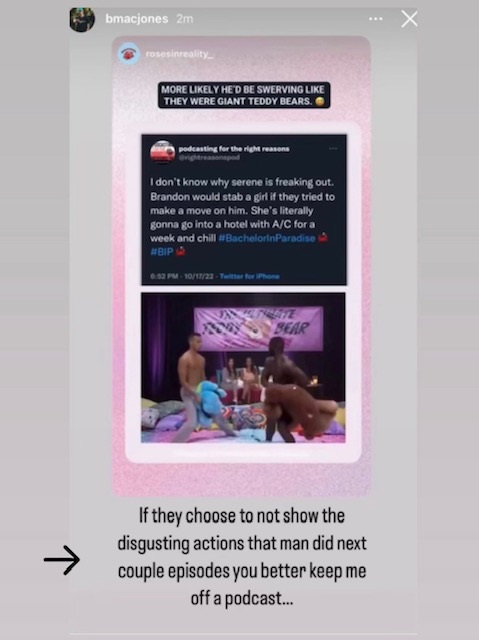 If you can't tell by the pic, that's a photo from the teddy bear fighting group date on Michelle's season between Brandon and Olu. So clearly judging by Brandon's reaction, Olu said/did something while he was one of the 5 men in the hotel with Serene that Serene relayed to Brandon and Brandon is pissed now, but probably had to delete bc production told him to since it was something that clearly wasn't aired. I have no idea what Olu said/did. But clearly it made Serene uncomfortable enough to tell Brandon and now he's defending his woman over it.
As for Gabby & Erich, I got like 5 DM's last night asking if I knew what's going on with them. I haven't watched DWTS from last night, but I'm being told Erich wasn't there again last night, she doesn't wear her ring in her video packages or in IG stories, and they haven't posted about each other in a week or so. I haven't paid attention to when each has or hasn't been posting about the other, and I have no idea if they've broken up or what. That's the first I'd heard of anything. So I have nothing new to give you there. As I said at the beginning of DWTS, I don't think there's any way they make it long term anyway, but that I wouldn't think a breakup would happen while she was still on DWTS. That'd be too much to take on. So if they are broken up, or she's thinking of doing it, I wouldn't expect it til she's off DWTS.
Send all links and emails to: steve@realitysteve.com. To follow me on Twitter, it's: www.twitter.com/RealitySteve. Instagram name is RealitySteve, or join my Reality Steve Facebook Fan Page. Talk to you tomorrow.