Two major events in my life took place yesterday. I mean, MAJOR. You ready for this? Hold on tight. First, I started physical therapy for my torn Achilles which, in its basic form, was as simple me just moving my foot around and stretching it for the first time in 3 months. Felt a little weird. Definitely tight, but basically now they want me to exercise it every day and already this morning it feels looser than yesterday. Big steps I tell ya'. And what was the second major life event that took place yesterday? Oh yeah, Taylor Swift announced her 2023 tour. Within minutes I was on her site signing up for some verified fan registration for tickets since she'll be in Dallas April 1st & 2nd. I have no idea if this fan registration really gets me anything or opens me up to seats I would actually buy or not. What I do know is I'll be at one of those shows for sure and I'm probably gonna end up paying an arm and a leg for it on the secondary market. Hell, yesterday I got an email from Gametime, one of those cheap tickets online sites, and I could've purchased tix yesterday, even thought she says tickets don't go on sale to the public til Nov. 18th. And just like her last tour 4 years ago, ticket prices are through the roof. Hey, sometimes you just gotta bite the bullet for Tay Tay and that's what I plan on doing.
Today's Daily Roundup is up and includes Gabby & Erich not looking good, the DWTS effect, BIP last night, Genevieve & Aaron, T Swift announces her tour & the world loses their mind (including me), Halloween, and starting physical therapy.
You can listen to it on a number of platforms, but you can also tune in by clicking the player below:

Subscribe: Apple Podcasts,RSS, Stitcher, Spotify
Music written by Jimmer Podrasky
(B'Jingo Songs/Machia Music/Bug Music BMI)
Nothing new to report right now on Zach's filming. I still am confident in 3 of the 4 women who have hometown dates, just don't know the 4th, and until I get it confirmed I don't want to release anything. Filming has begun, no pictures or videos have gotten out, and really, it's hit or miss whether they do. We're 0-for-1 already so who knows? It varies every season. For Clayton's season, none of his 4 hometown dates had any pictures or videos get out. For Gabby/Rachel, 3 of them got out publicly (Erich, Aven, & Tyler), 3 of them were spoiled by me with pics/videos (Jason, Johnny, & Zach), and Tino's never had any pics or videos, but it was spoiled a week in advance he was having a hometown. So time will tell with Zach's women if anything gets out.
So I mentioned the other day I swore I saw something on US Weekly where the headline specifically read that Madi was yelling about she was gonna have sex for the first time the night of her wedding. Which was quite an odd headline to write. When I went back to look for it, it was gone. But there was a story about the Grant and Madi Relationship Timeline that you can read here. So while it's in that story under "October 2022," I knew I'd read it as a headline but a quick Google search an hour after I saw it and it was nowhere to be found. Well, a reader found the screenshot of the headline and now I know I'm not crazy: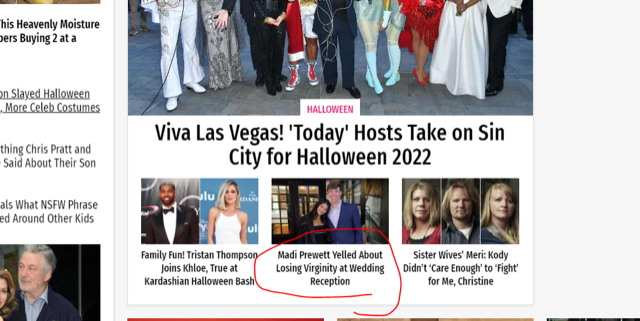 My guess? Madi absolutely contacted US Weekly once that headline came out and told them to take it down. And since these mags don't want to ruin relationships with the contestants they have, and have had for years, they immediately took it down. The Troutt/Prewitt media empire is already beginning. Apparently US Weekly learned that lesson that you don't bite the hand that feeds you.
I'm sure you've seen the clip by now, but if not you can read here, but after DWTS on Monday night, Gabby was asked by a reporter what's going on with her and Erich. This was her response:
" "Life is just really busy for the both of us right now. So I understand their concern but we're just kind of, you know, going forward with each of our individual interests and supporting each other from afar."
Uhhhhhhhh, you're engaged Gabby, you do realize that, right? Tell me you've broken up without telling me you've broken up. Have Gabby and Erich put out a statement saying they aren't together anymore? No. But I think all of us know that 2 + 2 = 4. And this one is clear as day. They clearly aren't together anymore and just probably don't want to put anything out until she's done with DWTS. "Support each other from afar?" You live in the same city right now. It's not like they have to do long distance. I mean, this was a basic question of how things with her and Erich were. She easily could've BS'ed her way through this question with a standard, "Things are good, it's been a lot with me rehearsing, but we make time for each other," and everything would've been fine. But she couldn't even say THAT, so clearly, they are headed for a break up if they aren't already. None of this should be much of a surprise since I said the day after the ATFR that they weren't long term and it'd be sooner rather than later.
But the DWTS curse really is a thing. Chris & Whitney, Jake & Vienna, Nick & Vanessa, now Gabby & Erich. It's just not a smart move to immediately go onto that show right when the ATFR ends and you are a public couple for the first time. The only one who made it is Sean & Catherine, yet Sean said it on my podcast and in his book if he could do it all over again, he wouldn't have done DWTS because it was the toughest time he and Catherine had in their relationship. Hannah Brown was single when she did it because she'd already broken up with Jed, and Kaitlyn was 5 years after her season and was already in an established relationship with Jason, so it didn't affect them. To immediately come off the show as an engaged couple, and then all the sudden one of the parties involved is rehearsing 6, 8, 10 hours a day when you're finally allowed to a be a public couple? Yeah, makes sense as to why these couples haven't made it. I'm not saying Gabby should've turned DWTS down to focus on her relationship, because it's too good an opportunity, and certainly she's thriving in it. I don't think it would've mattered really. I said it then and I'll say it now, her star is on the rise and she's insanely more popular in that relationship than Erich and always would be. And that's a dynamic that is difficult to navigate. We see it in real Hollywood a lot. This is that on much smaller level.
Some BIP thoughts from the last two nights:
-Eliza & Kate's approach to Rodney and Logan was head scratching. Both women wanted those guys to tell them "I don't want you to go on the date." But at no point did either of them tell Rodney or Logan, "I don't want to go on this date." The guys were put in a no-win situation. If they told them "I don't want you going on that date," the women might look at it as not letting them get the full experience of Paradise and being tied down to one guy. By telling them to explore, the women didn't feel wanted. I thought that line of thinking made no sense.
-Rodney isn't even talking to any other woman on the beach. Eliza specifically said she only came on the show with two men in mind: Rodney and Justin. Rodney was just being mature letting her go explore with Justin. Didn't mean he didn't want her. It just seemed to be some serious backwards logic and neither guy was put in a good position by either man. Kate said the same thing to Logan last night and because he didn't tell her he didn't want her going, she felt that he didn't want her and wasn't fighting for her.
-As for Genevieve and Aaron, we knew "gaslighting" was gonna get thrown out in last nights episode, and of course, it was a case where that term was used incorrectly. In fact, it wasn't even close. Genevieve telling Aaron she wanted to spend some alone time with him and him flying off the handle and throwing the gaslighting term at her was completely wrong.
-Not sure why Eliza and Victoria chimed in saying because they were arguing that passionately it showed how much they cared for each other. Ummmm, no. That was toxic, not a healthy relationship. Especially in the honeymoon phase. These two are not a good match, clearly have horrible communication skills, and are NOT made for each other, like everyone on the beach seemed to think. Very bizarre behavior and anyone who watched them interact know Genevieve and Aaron would never last long term outside of the show.
"Reader Emails" begins on Page 2…