So now lets talk about some of the behind-the-scenes stuff about some of these women that no one has reported yet. Some interesting stuff here for sure. The first one being that trailer for the remainder of the season which alluded to someone's ex showing up. In case you missed it, here it is:
So whose ex is it? Where does he show up? What's his past with her? Why is he there? Well, here you go. The ex who appears is Ross Jirgl, and he's Becca's ex-boyfriend. They've dated on and off for a long time (I've heard as far back as 7 years), sometimes long distance, but they met in college when he played football at Minnestoa St. This is them from 2014: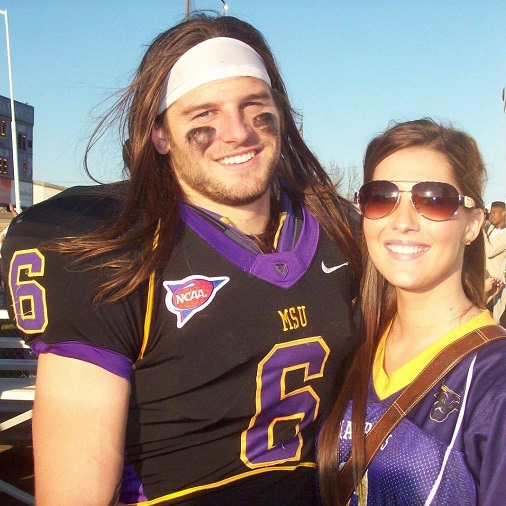 You know if they're gonna fly someone's ex in (of course this was all set up by production), especially at the very end of filming, you knew something big was gonna happen.
Ross shows up in Peru at the end of the season and proposes to Becca. She says no and accepts Arie's proposal.
I mean, we've had exes show up in the past sure. But we've never had an ex show up so late in the game, and on top of that, actually propose to them. So yeah, kind of a big deal. I didn't think the show would actually give that away in the preview, but they did, so there's your answer. I know a ton of you have asked me since I named Becca as contestant who is the guy she tags in all of her pictures (and he tags in her) and is that her boyfriend, was she dating him before the season, etc. This guy: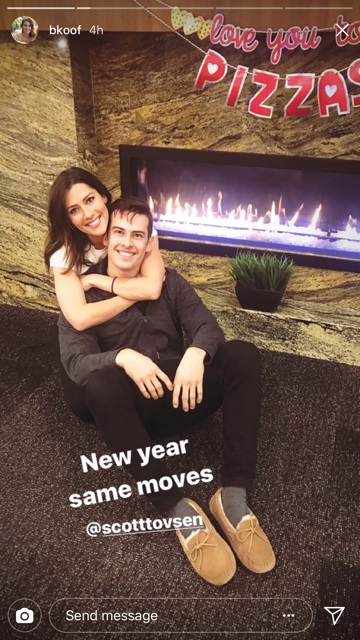 We can finally put this to rest now. His name is Scott Tovsen. He's her best male friend. They've never dated in the past, they aren't dating now, and never will date as far as I'm told. They are just super close. Not hard to imagine evidenced by how many pics they've posted together. Ross is the ex that shows up in Peru, he proposes, she says no, and accepts Arie's proposal. That's the "shocker" this season. Ross currently works at Stanford University as a Sports Performance coach. Here are his social media accounts so the crazies, tabloids, and media outlets can hound him. You're welcome:
Facebook – Ross Jirgl (not sure why he threw in the name "Simon Cholometes" in his FB profile. Maybe he didn't want to be found by a simple search of his name. Whatever the case, Simon Cholometes was a teammate of his at Minnesota St.)
Instagram – jirglross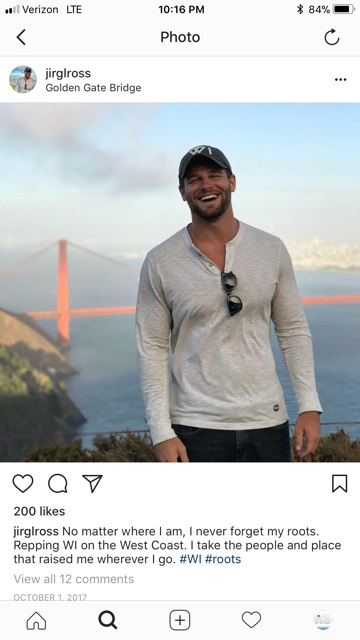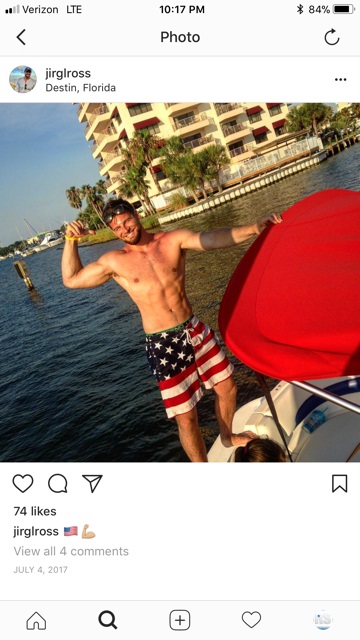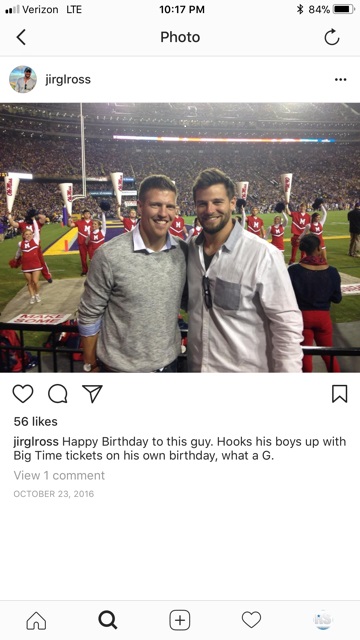 Ok, lets talk about Chelsea a bit. Kind of a polarizing character after last night's show I'd say. You've known about her for 4 months now, but I haven't seen anyone else report on the baby's father or anything about her, so lets get to it. Bear with me here. Could get confusing. Chelsea was never married to her baby daddy. They'd known each other for 3-4 years before they got pregnant. His name is Mike Wilson. Sometime during the first year of their son Sammy being born, Mike started "seeing" a woman named Rani Williamson, a former Miss Maine USA. Chelsea eventually found out, and Mike and Rani went public with their relationship when Sammy was around 1. Did I mention Rani was married to a guy named Gabe Michelson, might've still been with him when she and Mike started seeing each other, and they had a 3 year old daughter together? Well they did. Mike and Rani ended up getting pregnant with their own child in November of 2016, got married in February last year, and had a baby boy this past August – you know, one month before Chelsea left to film this show. Leading up to filming the show, Chelsea was rumored to be hooking up with New England Patriots wide receiver Julian Edelman. Obviously I can't prove that, but hearing what I've heard, she definitely was running in those circles and was in touch with him. She's hurt by what Mike did, had some "work" done in the chest area, had the Edelman thing going, and basically went on because she wants to have a modeling career. Mike didn't approve of Sammy being shown on TV so never signed the paperwork, hence the reason why we never saw Sammy in her intro video. Whew. Get all that? This was Mike and Rani last night on his IG story, so my guess is they're thoroughly enjoying watching Chelsea's edit from last night: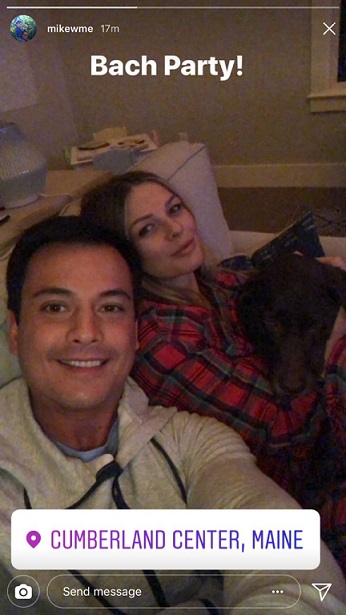 And here's Mike & Rani's IG pages. Mike's is private as of this posting, and Rani's is public. My guess is hers will be private within a few hours of this going up: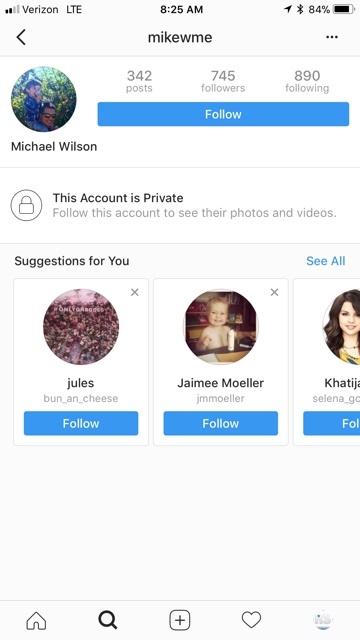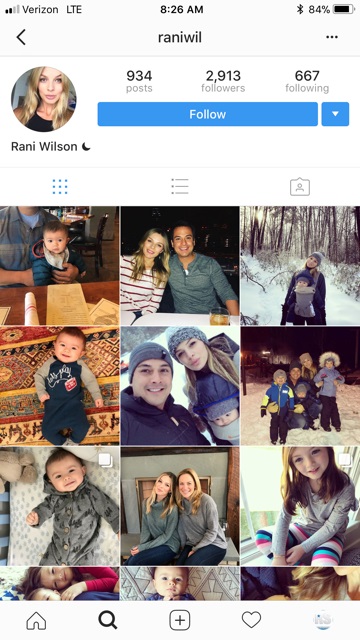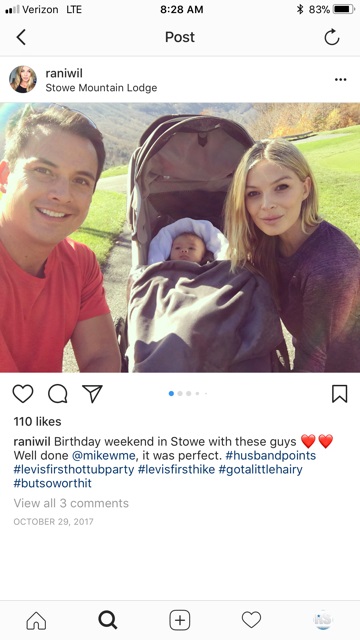 Lets talk about Kendall now for a second. If you read her ABC bio, she referenced the fact that she once drove a car through a moving train. At the time, I thought she was making that up, but in reality, it was because she appeared on "Fear Factor" with her twin sister Kylie. Some footage of that appearance has surfaced and, well, she's quite the trooper. In one of their other challenges, Kendall has to guzzle 24 oz. of donkey semen, while her sister has to drink the same in donkey urine. Get ready to gag. It's already cue'd up to the start of Kendall & Kylie's chugging of donkey liquids:
One thing I want to remind everyone here in case they've forgotten: Kendall makes it to the fantasy suites this season. Just sayin'.
As for Maquel, her ex-husband Josh Munday is already running to tabloids claiming he wants her back. Well, they've definitely seen each other since she's been back, but to say they're going to get re-married or whatever, I have no idea. Maquel certainly looks like she's much more interested in promoting her photography business and will no doubt be on BIP, so enjoy it while you can, Josh. That chicken might've flown the coop.
And one final note from one of the girls. I couldn't find the footage on Bravo's site, but Annaliese the "kissing bandit" was on a couple episodes of "Millionaire Matchmaker" about 5 or 6 years ago. UPDATE: She's on episode 2 of season 5 as one of the 3 girls picked to date one of the guys. And she's also in the next episode (episode 3) in the background of the cocktail party. You can find the episodes on Hulu.
Your poll question for today has to do with what'd you think of last night's episode: