Episode 5: (airing June 26th) Oslo, Norway (12 or 11 to 9)
Now there is a possibility there was a 3rd person (4 total) eliminated at the South Carolina rose ceremony. I don't think there was, but if so, that screws it up for Norway. But 9 definitely went to Denmark, so keep that in mind. It's either South Carolina went from 15 to 11, and Norway it went from 11 to 9. Or South Carolina went from 15 to 12, and Norway went from 12 to 9. Assuming Norway started with 12 guys (which I think it did), 6 guys are eliminated in Norway and Denmark – Kenny, Josiah, Lee, Alex, Will and Anthony. I'm just not sure which ones get eliminated in which episode on all 6. I'll put what I think but I'm not sure. I just know six got to Switzerland and none of those six are them, so I'm working backwards knowing when people had to have been gone by.
1-on-1 Bryan Abasolo. A man in Norway was sitting right next to them and took this pic:
I tweeted this out that day after Fleiss tweet:
That would be at Holmenkellbakken, a large ski jumping bridge in Oslo, Norway https://t.co/6LRapxEnmh

— RealitySteve (@RealitySteve) April 3, 2017
Bryan and Rachel got the proverbial "adrenaline" date here as I believe they rappelled down that ski jump on harnesses. Or just hung there and made out. It was in the season previews of them strapped to harnesses kissing.
Group Date: Handball game with the locals in Norway.
2-on-1: I think this is Kenny King and Lee Garrett and she sends both of them home. If she does keep one over the other it's Kenny she keeps, and he's gone the next episode.
Rose Ceremony Eliminations: Josiah Graham. Lee eliminated on the 2-on-1. Either Anthony or Kenny also eliminated this episode.
Episode 6: (airing July 3rd) Copenhagen, Denmark (9 to 6)
1-on-1: Eric Bigger. Took a hot tub dip out in the open of the city. Got this pic from earlier in the day before the hot tub: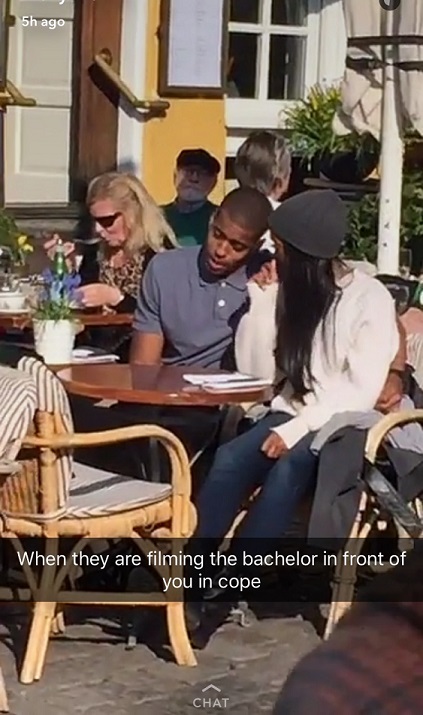 Group Date: 7 guys in a Viking Challenge using swords and shields. Dean, Peter, Bryan, Alex, Matt, Adam and someone else. Knowing all those guys but Alex make it to the next episode, whoever the 7th guy is on this date gets eliminated during the date or at the after party, per Robert Mills who said on his radio show in April that Rachel eliminated one of the guys during the group date in Denmark.
1-on-1: Will Gaskins. Took a boat trip to Sweden for the day. Pretty sure Will gets eliminated during this 1-on-1 because he doesn't make it to Switzerland.
Rose Ceremony Eliminations: Alex Bordyukov & mystery guy who got eliminated on the group date. Will Gaskins got eliminated on his 1-on-1 date.
Episode 7: (airing July 10th) Geneva, Switzerland (6 to 4)
1-on-1: Bryan Abasolo. Fleiss tweeted this out the day of Bryan's 1-on-1 in Switzerland, so my guess is they got to drive one of the fancy cars around:
Sweet ride to love… #TheBachelorette pic.twitter.com/QOrObWkXJX

— Mike Fleiss (@fleissmeister) April 15, 2017
1-on-1: Dean Unglert. Visited Old Town Geneva.
Group Date: Eric, Adam, and Matt. Eric gets the rose and is guaranteed a hometown date.
1-on-1: Peter Kraus. They go to the Swiss Alps and freeze their asses off.
Rose Ceremony Eliminations: Matt Munson and Adam Gottschalk.