Quite an interesting day yesterday. I got the gamut of emotions on Twitter and email regarding the change in spoiler. One thing to keep in mind is that original spoiler was posted Wednesday, May 17th. Rachel didn't start doing her media rounds until the next day. You bet your ass the show is fully aware of what spoiler was put out there before they let Rachel start talking, so maybe that did play a role in her saying immediately she was engaged, with them thinking that everyone would just assume the spoiler to be true and they'd hope I wouldn't find out the real ending. So remember what when you've seen Rachel in any interviews from May 17th up until yesterday. I guarantee she was coached to say certain things based on the spoiler that was out there. Now that it's changed, lets see if anything changes in interviews she does. Although, I just don't put too much stock into what is shown on the show, nor necessarily how Rachel says things in the media because nothing can change what happened on that final day of filming, which was what I posted yesterday. They can try and mislead and misdirect all they want, but they don't fly back to Spain to reshoot endings, hence the reason that part can't change. It'll be impossible to ever know for sure, but you know they are very well aware of what I put out there every season. Almost TOO well aware to be honest. Now that the show knows two different spoilers have been out there, regardless if I know the new spoiler is the correct one (and they do too), they also still know people have in their heads "Well, I don't know what to believe now." So they can have a little fun with their media games. It's fine. We'll all see on August 7th.
Can't believe it, but this Friday night is the Reality Steve Fan Appreciation Party in Las Vegas. There are no openings left unfortunately, but you can still participate – sort of. For the third year in a row I'll be having the Trivia Contest which will be live on Periscope. Although that usually doesn't start til around 9:30 PST, so you east coasters might have to wait up a little late into Saturday morning to watch. I made the contest a little easier this year (at least I think it is) as I kept most questions to recent seasons, and did away with a lot of "location" stuff, since that seems to be things people have the toughest time with. Look forward to seeing everyone there, and if you want to follow along on Periscope once the Trivia Contest starts, create an account, and you'll be notified on Twitter once we go live.
The winner and all contest questions will be revealed in next week's column for those who can't tune in. Also, I'll probably post it on my YouTube channel if you wanna watch it later.
Some podcast news to discuss. I told you I taped Olivia Caridi's podcast a couple weeks ago. It's now live and you can listen to it here:
A lot of good stuff in there. We cover plenty of things you want to hear about. Due to contractual issues, we couldn't work it out where she came on mine, but I was more than happy to go on hers and she basically let me do the interview I wanted to do if she could come on mine. Even get to do a "Rapid 10" with her. So technically, consider it a second podcast this week because I asked and talked about everything I wanted to talk about with her. Your regular podcast will be up earlier than usual on Thursday morning since I've got an early flight out.
Get your "Reader Emails" and "Dr. Reality Steve" emails in the next couple days, and I guarantee they'll get posted. You've been slacking on "Dr. Reality Steve." I've only gotten 1 so far. Unacceptable. I want at least 5 this week, if not more. Get them in. Also, the podcast that I'm doing with Sharleen has a title now. It's going to be called "He Said, She Said." Thank you to the person who submitted that one. We liked it the best so decided to go with it. If you have a question/comment about anything regarding relationships/dating/sex/marriage, you have access to Skype Audio and you want to be a part of the first episode, contact me and we'll set up a time where you can talk to both of us on the show.
One thing I'd been asked a lot recently is UnREAL and when it was coming back. We really hadn't heard much since casting stories back in March, and the first two seasons always coincided with the "Bachelorette" season. Well, we finally got our answer Sunday night and it sucks. UnREAL season 3 is being delayed until the beginning of 2018. Odd choice considering they've already wrapped filming on the season. But my guess is since they just wrapped, not nearly enough time to edit it and air it while "Bachelorette" is on, and they definitely want it running when a "Bachelor" related show is on, and the next one would be in January when the "Bachelor" airs. Anyway, now we have our answer when we can expect season 3 of "UnREAL" to begin.
So with the new spoiler posted yesterday, lets check back in with Jimmy Kimmel's track record. Last week I mentioned I'd be curious to find out how accurate Jimmy has been on his "predictions" over the years he's been having the lead on and grills them about who they chose. They're always basically a rip off of what I'd already posted, but I didn't know for sure how right/wrong he's been until now. A reader took the time to put together this chart: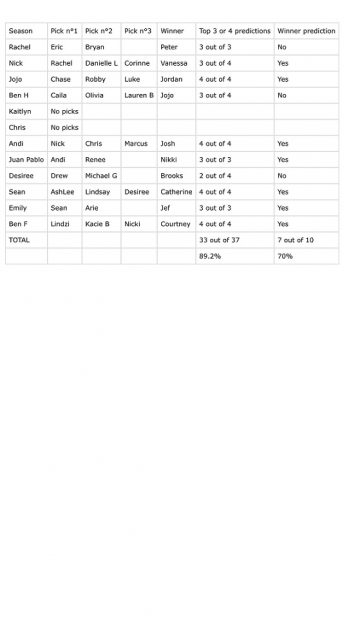 So I remembered that when he had Chris on, all Kimmel did was show him pictures of the girls and he just played a game of "Crazy or Not Crazy." He never did predictions of top 3 or 4 or the winner. And for Kaitlyn's season, remember on her first night she was there with Britt. So he never got Kaitlyn by herself on his couch to grill her. She didn't come on solo until the end of the season after it was revealed she'd picked Shawn and they talked about their snapchat snafu. So of the 10 "winners" he's predicted, he was wrong on 3 of them: Rachel's (Peter), Ben's (JoJo), and Desiree (Brooks) – two of which were ones that I had initially wrong (Rachel & Des). Things that make you go hmmmmm….
A couple "Bachelor in Paradise" notes to get to:
-Filming started Saturday
-Fleiss tweeted out a picture of Jorge down there, so the rumor that he might be replaced by a contestant I guess isn't true. Although Jorge definitely doesn't work at the resort anymore, so, they brought him down just for the show.
-A couple additions and subtractions to the cast based on what I'm hearing: Cupcake is out. Didn't get cast. But Vinny and Iggy are doing it. I'm pretty sure Vinny is original cast and Iggy is coming on later.
I'm sure you've seen the outrage in the last week once a Bachelor fan unearthed a bunch of Lee's old tweets. Embarrassing and disgusting. For Lee sure, but also for the show. Chris Harrison tried to address it and failed miserably:
For those asking, no, of course we didn't know about the offensive tweets from Lee's account. None of us were aware of them Very unfortunate

— Chris Harrison (@chrisbharrison) June 2, 2017
Chris, "we didn't know" should've been "we SHOULD'VE known." You guys give every contestant 1000 question psych tests. You run all sorts of medical tests on them. You contact exes of theirs for information. You're telling me you do all that but don't bother to search their Twitter account? Yeah, you might not have known Lee had tweeted that stuff in the past. The point is, you should've. You guys dropped the ball. I'd be shocked if Lee is invited to the "Men Tell All." My guess is they're going to stay as far away from this one as possible.
Your poll question for the week is regarding yesterday's spoiler change. What do you think?