Hey steve,
This Ashley Spivey seems like a hypocritical media whore, and you just feed into her.
To compare what Garrett supposedly "liked" on instagram several months ago to what Roseanne proactively posted herself is insane and petty. Your response will be "then why did this get so much attention?" I will tell you why: because Talentless assclowns like yourself and Ashley Spivey have nothing else intelligent or worth while to talk about except tossing mud at anything male-bachelor related. By the way, you are trying too hard, no way this chick is banging you.
Comment: Cool. Appreciate the support. Keep reading.
I don't think Ashley is banging me either considering she's married.
__________________________________
Hi Steve,
I was wondering if you had any info as to whether or not Jared and Ashley are already engaged? All these photographers & stuff that took pictures of them on their romantic trip to Hawaii kept saying stuff like "can't wait to share MORE later" etc, like they could only divulge so many pictures/details of their special date. Also Ashley had a ring that could possibly be an engagement ring but was worn on the right hand to not let anyone in on the secret yet? I asked one of the photographers who posted a picture of them regarding the ring and they responded saying "you'll have to ask Ashely." Anyways, just curious if you have any details 🙂
Comment: If they were already engaged, they'd be screaming it from the rooftops and a magazine would've already paid them for that story. You know how much those two seemingly are milking every second of this announcement. They wouldn't pass up the opportunity to tell everyone they're engaged. They're not.
__________________________________
Sorry if you have already made mention of this but are you aware of the website cameo where you can order specific messages from d list celebs and send them to your friends for their bdays or other events called "cameo"?
All of your "favorite" bachelor stars are there….robbie, arie, grant…and more. Please check out the prices as well as the reviews.
Comment: Oh, I'm very aware. And frankly it's embarrassing. I got an email a couple weeks ago from someone who wanted me to give her friend a birthday shout out on a recorded video. You know what I did? I took :30 seconds out of my day, recorded a clip, emailed it back to her, and didn't charge her a cent. You wanna pimp product on IG? Go ahead. You wanna get paid for appearances? Be my guest. But to charge in upwards of $50 just because a fan wants you to send them a short video clip asking for a "Happy Birthday" or something like that? That's just wrong. How pathetic.
__________________________________
Hey reality Steve,
Love your posts and podcasts. Wondering if you know if Adam (from raven and Adam) knows Garrett? Seems like he does given his support on Garrett's insta. Checked who Garrett follows and he follows Adam.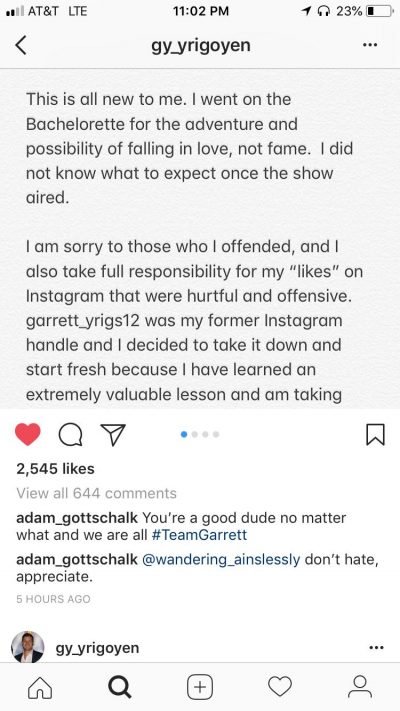 Comment: Sounds like he does in some form based on that comment. But I don't know for sure.
__________________________________
Hi Steve,
I have 2 questions based on the Garret debacle from last week.
1. Do you think a couple with opposite political views can make it? (I happen to know some married couples like this but I don't think it is the majority of people). Absolutely. There are plenty out there. But that's never what the Garrett debate has been. And obviously since they've talked about it, they've worked through whatever it is they needed to work through and they're going good.
2. Do you think politics belongs on social media? I personally don't think you can change anyone's views by posting things on social media and I certainly don't think you can change people's minds by arguing over the internet. I personally choose to not post or like very many things that are linked to politics but I wanted your views.
Thanks for answering!
Comment: Do they belong there? I mean, I guess it's impossible to police that. But I'm in the same boat as you. I don't talk it on social media, I don't like, well, anything on social media let alone politics, nor do I ever engage with someone about politics on social media. There's no point. It's one giant circular argument that goes nowhere. It's probably the most divisive topic on the internet, so I just don't engage. Not for me.
__________________________________
Dear Dr Reality Steve,
If they don't think Blake or Jason can carry the show, who from the past do you think they will go to? Those 2 guys don't seem like a lead but it is too early in the season to tell. Could they ever get Roberto (no clue if he is single or would want to)? He would be another chance at a diverse male lead. I guess they've shown technically anybody is a possibility with the selections of Nick and Arie, but is there anybody else that nobody has mentioned that they might pick?
Comment: I mean, people are always gonna throw out Peter and Ben H. The answer is, we just don't know. I doubt Peter is someone that would do it anymore, on their end and on his. As for Ben, Chris Harrison wants his children and they bring him on every show they have for no reason whatsoever, so, I guess we can never rule out a Ben 2.0.
__________________________________
Hi Steve! I'm so sorry if you already answered these two questions but I was curious if you know what Becca and Arie talk about when he appears on this season. And also in the preview for the season, Becca is crying and says something like "he just did the same thing Arie did to me" (can't remember the exact quote). Do you know who or what that was about? I tried to look back in your columns but couldn't find anything about it. Thanks, Steve!
Comment: All I know is she gets her closure she needs apparently. Not sure when it happens but I'm guessing around the time of the final 4. Doubt they flew Arie to Thailand or the Maldives. That wouldn't make sense.
Not sure on that scene where she crying either.
__________________________________
Hi Steve!
Excited for another season! Quick questions:
Do you happen to know which of Becca's tattoos Arie was referring to during the "unedited breakup"? He pointed out a new tattoo she had gotten and I'm wondering what it was. No, because I'm confused on how many she has and what they are. I know she just explained them in some video, but I already forgot.
What are your thoughts on this rumor about Danielle M and Paul? Yeah, that seems to be making the rounds now. Look, it's never fun when something like this happens. You feel bad for her if in fact he did cheat on her with Cara Maria during the filming of "Final Reckoning." But, c'mon. How did she not see it with this guy? Every warning sign was there. When we first heard about this relationship, all anyone was doing was talking about what a misogynistic pig he was who cheats on every girl he's been with. So if he's done it again, are we supposed to be surprised? Doesn't take away how much it would suck for her, but she can't say this was out of nowhere unfortunately.
Reaction to Designated Survivor getting cancelled? I thought the season finale was a good one and definitely didn't seem like they knew the show was getting cancelled.
Comment: No, they definitely didn't. The decision for it not to return was made after that finale was shot. It sucks. I know it's still being pitched in other places. Maybe Netflix will pick it up. I liked it. Got confusing at times but it was always a good watch. And the number of cameos from people who were on "24" at one point was always fun. I know it's over 10, which is amazing. It was like "24"-light.
__________________________________
Dear Steve,
Though I don't know Becca in real life, she seems like a straight-up good girl. I thought she dodged a bullet when Arie broke up with her, but also felt bad for her. Break-ups are hard enough when they are private. I even cared about Becca choosing well this time, so when I learned about Garrett — it was enough for me to skip watching this season. I don't want to watch her chose another inconsiderate partner. I know every season is a train-wreck of sorts, but this one bothers me more. It's like when your friend is dating an asshole, you don't want to spend time with them.
-related story- about six years ago there was a wave of publicity about the racist donations made by the owner of Chick-Fil-A. The allegations were bad enough that I questioned whether I should eat there, was I supporting his views if I contributed to his profits… I am a pussy-hat wearer vs. NRA supporter. Nonetheless, with a modicum of guilt, I was in North Carolina for work, and went to Chick-fil-A for lunch. I asked the woman behind the counter whether she'd seen much difference in traffic after the waves of publicity. She said, "oh yes, we have many more customers now." What the??
So, this leads to my question… have the ratings dropped after the disclosure about Garrett? Or is there really no such thing as bad publicity?
Comment: Ratings are steady. They're winning their times lot on Monday night and drawing close to 6 million viewers a week. Train just keeps on rolling down the tracks.