-The group football date is up next with 10 guys playing football, although only one is a real football player while the rest pretend to be. They are joined by two players from the LFL, the Legends Football League. It used to be the Lingerie Football League and I can't imagine why that name possibly got changed. They play football in lingerie. Leave the name. During the warmups portion, you can see that Clay knows exactly what he's doing since he's in his element. Lincoln was struggling and Becca noticed it. "C'mon Lincoln, pick it up" which is a line I'm sure us viewers who are aware of his bathroom habits all got a good chuckle at. I know I did. You're never gonna believe this, but John the guy who created the Venmo app, says he's never played football before. Next thing you're gonna tell me is pigs can't fly. Or that the sun is hot. John never having played football before this date might be the least surprising thing all episode.
-The teams were Christon, Garrett, Leo, Connor, and Ryan vs. Mike, John, Lincoln, Clay, and Blake. The crowd they had invited in was going wild for this game of 5-on-5 football where rules really didn't seem to matter. And some of the clips we saw really didn't match up in sequence with what was happening, but then again, they never do on these sports/athletic group dates. They show you the highlights of what happened and never in correct order. Like they show Garrett throwing a long pass, but then on the receiving end someone's catching a pass clearly from a shorter distance. Like if Clay really wanted to try hard, he could've gotten the ball every time, run through everybody, and scored 400 touchdowns. He should've. That would've been like a "Bachelorette" record. Instead he played…quarterback? Huh? What was the point of that?
-Clay did start doing more when he realized he was on a team that had Lincoln and John on it, two guys that probably didn't even know what a football was before that day. Safe to say, Lincoln and John were on my bench for the "Bachelorette Fantasy Football League." I started Garrett, Clay, Blake, Christon, and Leo. Leo only for the fact he's a "stuntman." He's using the word stunt quite loosely in his profession I might add. So down 21-14 and sick of how crappy his team is, Clay decides he's going to just make his own rules. He gets the snap and just takes off running, barreling through fools, stiff arming chumps, and gets to the endzone on one final stiff arm, but in the process, breaks his wrist. Game ends in a 21-21 tie, Clay needs an ambulance to the hospital, and all of us at home never want to see those 10 play street football ever again.
-The after party only showed Becca's time with Garrett. Sure, we got short clips of the other guys, but the most significant time was with Garrett. He went with the ol' "let me show you some football moves when in reality, they are moves for me to grope and make out with you." And by golly, it worked. Who would've ever thought that? He showed her tackling form, he picked her up, she picked him up, they made out, and then she went back to talk to the others probably not caring for a second what they had to say about anything. As I say every season, even if you didn't know the spoilers, it's not really hard to tell who lasts long in these things. After party alone time is something that's usually a key. Because when there's 8-10 guys on a date, they aren't going to show you each guy's time with her. The ones they focus on are the ones who either: A) are lasting long B) are the one that gets the rose for that particular date since they need to justify why they got it or C) the person who is involved in drama. Christon, Leo, Connor, Ryan, Mike, John, and Lincoln don't fit any of those criteria, that's why we don't see significant time of theirs shown with Becca.
-Blake did get time because he fit into category A. He had the 1-on-1 date last week, and just like every previous recipient of the first 1-on-1 of the season, Blake tells her how tough it was to be on the group date this week. There are 3 guarantees in life: death, taxes, and the first 1-on-1 date of the season person will have a hard time dealing with being on a group date after that. Or say that they hope the lead didn't forget how great their date was. That was Blake. He's in his own head now and admits it was difficult. He calls Becca his girlfriend, which she totally takes to, and they make out. The rest of the season basically you watch Blake to see if he is someone you can see in the lead role next season. Some will say definitely, some will say no way. One thing he has going for him over every other candidate? The strongest backstory since he'll be the guy Becca fell for but didn't choose in the end. That's always worth something. Of course, ABC can pull a rabbit out of their ass like they have the past two seasons with Nick and Arie, and Blake gets screwed. Always a possibility. We'll see.
-Clay returned from the hospital with his arm in a sling, but didn't want to miss out on the after party with a bunch of fools he smoked during the game. We see his time with Becca (example B) and Becca appreciates him coming back and making an effort to be at the party. He says he wouldn't have come back for anyone but her, and you really want to believe him, until you see him rocking that black mock turtleneck from his bio picture that went out of style in the late 90's. Either way, Becca is able to overlook his fashion faux pas and gives him the rose any way for being basically Bo Jackson in a football game vs middle schoolers. Kinda hard to be a one man show in a football game, but Clay did it. All while knowing he would be stealing Dwayne Johnson's look from his early days later that night: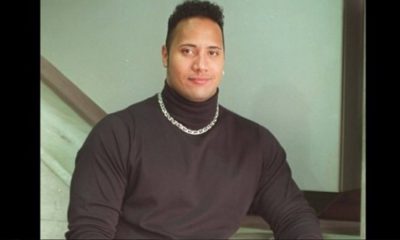 -Once we had less than 15 minutes to go and the cocktail party was just starting, I knew we were headed for a "To Be Continued…" episode and not getting the rose ceremony til next week. And all we got of the rose ceremony was Connor showing Becca how to hit a baseball since he admittedly sucks at football, then Clay pulling Becca aside and basically saying, "Look, my career is in the NFL. The fact I even got talked into coming on this show is a miracle in and of itself. To make matters even worse, I broke my wrist again playing against these candy asses, which will set back my training for this summer and possibly hurt my chances of getting on a roster this season. So with that said, I gotta bounce honey. It's been real. Peace." And with that, Clay walks down the driveway to…I'm not sure where since we've never really seen someone leave that way. Was he walking home? Can the guy get a car service waiting for him? Becca cries, and we end with her being very upset Clay left her high and dry with a bunch of dudes who cannot play football to save their lives. Clay, come back!
Send all links and emails to: steve@realitysteve.com. To follow me on Twitter, it's: www.twitter.com/RealitySteve. Instagram name is "RealitySteve," join my Reality Steve Facebook Fan Page, or listen to all my podcasts at Apple Podcasts. Talk to you tomorrow.