Big week ahead of us. The 4th Annual Reality Steve Fan Appreciation Party is this Friday at Mandalay Bay in Las Vegas. All spots are filled and as of now, close to 100 people are expected to be there, outdoing last year's attendance by about 30. Thanks to all who are coming as it should be a good time like it's been the previous 3 years. Those that won't be there can still follow along as I will be Periscoping the Trivia Contest, which will start around 9:15-9:30pm PST. Sorry East Coasters. The questions are drawn up, and I gotta say, I think they're mush easier than in year's past. Also, so many of these questions are easy to Google where you could find your answer in less than a minute. We make sure no one cheats who's there, but if you're playing along on Periscope for your own enjoyment, try not to cheat. I basically kept almost all of the 15 questions to things within the last 2 – 3 years of the show. A lot of lists too, which is where the winner will ultimately be determined. Looking forward to meeting all those coming out this year. It's open to anyone every year. If you want to attend, I usually start announcing it in January or February, so get in early next year if you're interested. Spots fill up quick.
Your episode-by-episode spoilers were posted yesterday in case you missed them. Most of which you already knew as it was spoiled here or on my Twitter while filming was happening.
Get your emails in today for "Reader Emails" and "Dr. Reality Steve" this week. Would like at least five "Dr. Reality Steve" emails if we can. C'mon people. Lets do this. I'm set to record this week's podcast in a couple hours. A few weeks ago I had hinted I had a couple "heavy hitters" coming up. Well, this is one of them. Not someone you hear from much in terms of interviews. I don't think they've done a podcast (at least recently), and they've kinda moved on from "Bachelor" world, although still wildly popular. Looking forward to talking to this person today and I think you will like this week's podcast because it does have a bit of a tie into this Friday's Fan Appreciation Party in Vegas if you're in attendance.
Lets tie up this Garrett story once and for all. Is it completely over? No. It never is. Only how he handles it from this point forward will truly show where he stands with everything. There's just not really a lot else to talk about regarding it anymore. But he posted an apology to his IG account last Thursday night addressing the situation of his likes on Instagram. In case you missed it, here's what he wrote: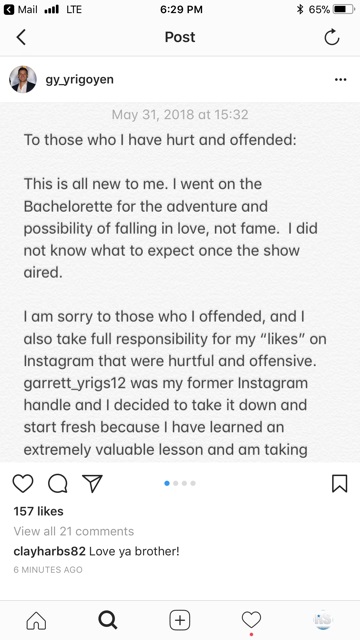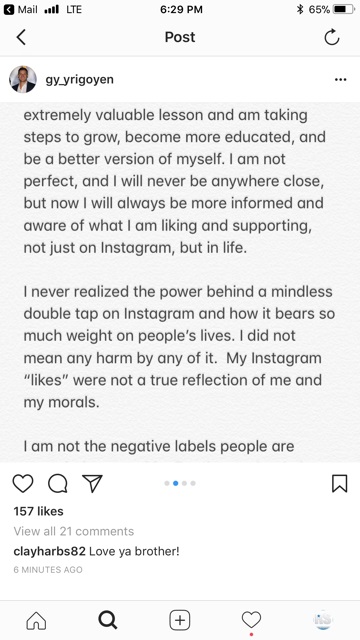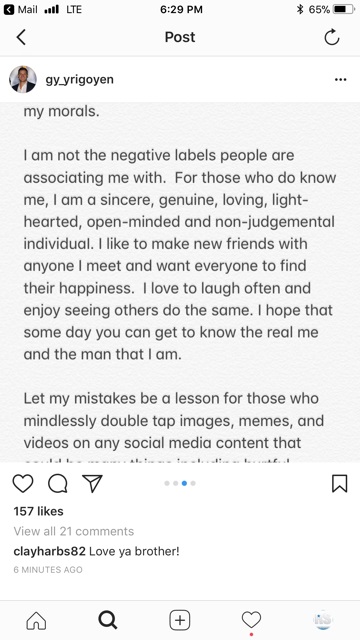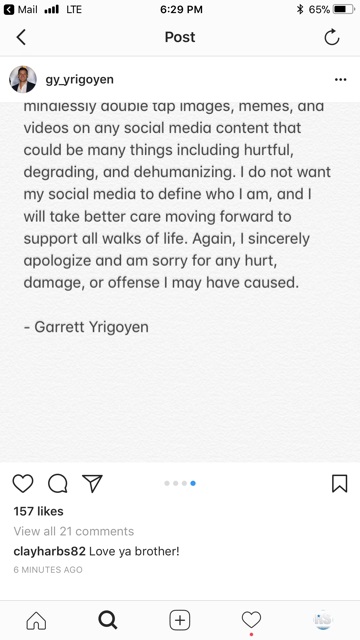 The first thing to address is the fact that he admitted this was his account, shutting down the notion that he was set up or hacked which a lot of people believed. Including myself for a couple days. Wasn't until I spoke with Ashley, along with being contacted by people who actually took the screen shots of his account, that I realized he wasn't hacked or set up. I just wanted all that information before I immediately attributed these to him. And now that we know he wasn't hacked or set up, Ashley (and others) ended up being right on that front.
Secondly, he didn't HAVE to put out any statement. I thought he needed to address it because it would've been a sticking point all season if he stayed silent, and after Becca's comments last week in her interviews saying "everyone's entitled to their opinion," I figured we weren't hearing from him until the finale. So I give him credit for addressing this, which is all I ever wanted in the first place. All I kept telling you is I wanted to hear from this guy first and take it from there. I thought it was a well thought out, well written apology that covered everything he needed to. He could've easily written some one paragraph BS apology that sounded insincere and been done with it. I don't feel that's what he did. One of the better written apologies I've seen. No excuses, owned up to it, and says he will be better going forward. That's really all you can ask for.
I get that some people already think it's BS and someone wrote it for him, and he's just doing it because he got caught. I get it. You have every right to think that. Just like you have every right to believe he was sincere and you liked the apology. Neither one of those sides is right. This isn't a black or white issue just because of an apology. Like Lee last season, it's great that they apologized and realized what they did offended a certain group of people, but it's their post-apology behavior that's most important. Me personally, I like the fact he addressed this and seemed sincere and now it's time to put it to bed. It's how he acts from this point forward that'll determine the sincerity of the apology. And for the most part, only those close to him will really ever know. Most of us will never be close to Garrett in our lives. Seems like a good guy, and no one has contacted me with a bad word about the guy, so while I don't agree at all with the type of likes he was giving out on IG to numerous accounts which perpetuated a lot of hate, he addressed it, apologized, and I'm more than fine with what he wrote. Lets see how he handles himself from this point forward. He didn't have to do what he did, so I applaud him for owning his actions and wanting to be better because of it. That's all I can ask for. Moving on…
This Leo stuff is too funny and ridiculously embarrassing. For those that missed my tweet Saturday night, when I released Leo as a contestant I had included a link to his IMDB page, which were a bunch of acting roles he'd had. Never bothered to do any research on them figuring they were all just bit parts in movies/TV shows. I was notified this weekend that his 2017 role in "High Heel Homicide" was a soft porn film. Something you'd see at 2am on Cinemax. Naked people, no gentalia shown, but simulating sex. Just bad acting all around. I'm guessing this was never brought up to Becca at any point. I'm hearing the guys didn't even know, so yeah, shocker this was never brought up. I hope "High Heel Homicide" paid well Leo. Especially after the girl you were having sex with in your one scene stabbed you at the end of it then drew her initial on your chest with her lipstick. "Gone Girl" this is not. But it sure will provide great comedic fodder for every episode it's on, that's for sure.