You know how Wednesday's I usually do a mini recap of last night's episode then get into "Reader Emails?" Yeah, not today. Mostly because I only saw the first hour and fifteen minutes before my fantasy draft started. It didn't end til well past 11:00 my time and I didn't have any interest in going back to watch what happened the rest of the episode at midnight only to shake my head at it even more. At this point, lets just get us to the finale since there's really very little to talk about anymore. Even the reunion finale that taped yesterday really had no major drama in it. The couples that I told you were engaged over a month ago are still engaged (Chris/Krystal, Jordan/Jenna), Joe/Kendall & Astrid/Kevin still dating, and there wasn't much else that happened. Although, Kamil did dump Annaliese on stage last night and that turned the crowd against him. I mean, if THAT'S your biggest storyline coming from the reunion taping, then you know it's not all that memorable. But seriously, there wasn't a whole hell of a lot that went on that's worth reporting. Those are your major storylines from the taping and it will be shown on Sept. 11th. Next week we have two episodes (the 3rd & 4th), then the following Monday & Tuesday are it. No "Bachelor" was announced at the taping, so it looks like we're gonna get that on GMA or Kimmel or something like that I would expect in the next week or so. Already, I have 12 women who I'm pretty sure will make the final cast. Those will be released once the women leave for filming. One thing to note from the taping last night was that there wasn't much Leo drama. I guess he felt left out so he figured he'd run his mouth on social media again for the hell of it, choosing to go after two popular alumni.
In case you missed it, here's a recap of Leo being Leo on Twitter last night…
Amanda tweeted this out on Monday night…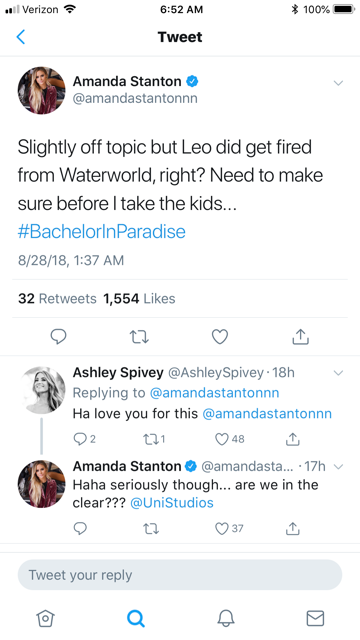 Then last night, of course Leo went on the attack…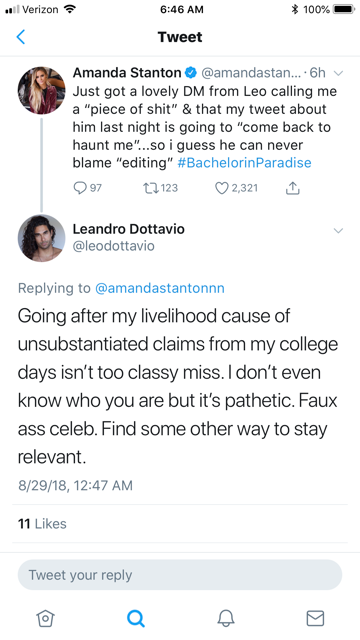 Of course, his manipulation continues as he tries to tell Amanda to prove it by posting a screen shot, but he can't because he blocked her, so now it must be a lie…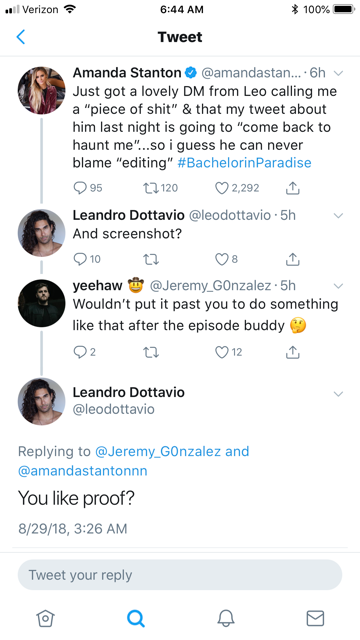 And then because I guess he was feeling bored and had nothing better to do with his life than troll former alumni, he decided to go at Tanner. Tanner tweeted this…
Leo… it's not really snitching if you did it on camera for national television…

— Tanner Tolbert (@ttolbert05) August 28, 2018
Leo responded by asking him to be a part of the Fight Club…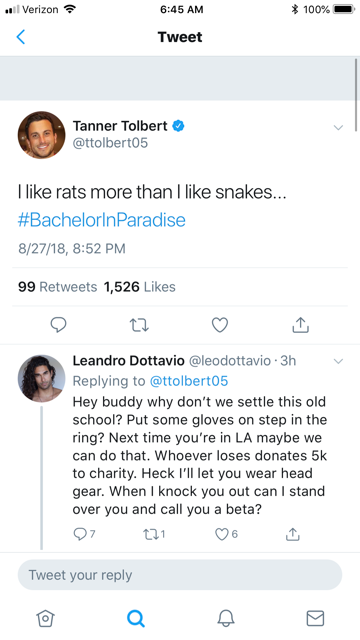 Leo has seriously lost his marbles, and Tanner came back with a response I think we can all agree on. This guy needs help…
Can we just skip it and I'll donate the $5k towards getting you some therapy??? https://t.co/zEl6lma3X2

— Tanner Tolbert (@ttolbert05) August 29, 2018
I'm sure Leo just chalks all this up to, "It's a TV show. I'm just having fun." I mean, his tweet the other night with the "Are You Not Entertained?" meme seems to insinuate that. But I'll repeat what I said yesterday. This guy is lost right now. His world is kinda crumbling around him and he's dealing with it in the worst possible way. Guy needs some serious help because not a single person can say they agree with how he's handling himself. If you make excuses for him, you're just as bad, it's that simple. Just go away Leo and accept criticism for how you're acting. You're embarrassing yourself.