Hi Steve!!
I really enjoy your work and your spoilers, I think mostly because your sarcasm and wit permeating the facts make it much more entertaining, so thank you for all that you do!!
My question is regarding this post made by Blake, because subtly he seems to be suggesting the people who cast the Bachelor want them to "change" themselves to fit a specific mold, and he wasn't willing to do that? So does that mean Colton was?? It doesn't seem to me that Blake was as "thirsty" for it as Jason was. And Jason did SO much campaigning it actually was offputtung. I guess Colton is just vanilla enough for them to manipulate and has the most stereotypically attractive appeal.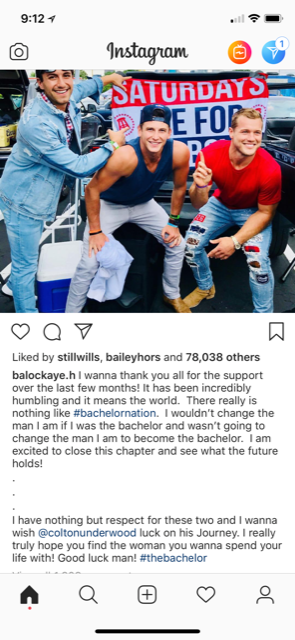 Also, I guess then it's no secret that the three of these guys were in the running from ABC as well, but clearly they went with Colton based on social media following and values, as you said. I think once they bring it back to his "All-American" values and his charity, people will be swooning over him (puke). He just doesn't do it for me at all, especially as a lead. Let's see how the Ken doll plays out in a house full of inevitable Barbies.
Comment: It's weird because I didn't read that post in the same way you did. I didn't read it as Blake throwing shade at the show saying they wanted him to compromise who he was or whatever. I thought he was just saying even if he was the Bachelor he's still the same guy, and now that he's not, that doesn't change him either. Does that make sense? I don't know. I guess Blake is truly the only one that knows. But considering he spent the weekend with Kristina on his arm, my guess is he's doing just fine.
Do we know how many days Colton and Tia actually dated in Paradise (how long he was "all in")? Just curious… Maybe a week or 10 days?
I feel like the whole thing was fabricated for Paradise and he never actually wanted to be with her. Is it possible producers knew this but persuaded him to go anyway and told him if it didn't work then he could be The Bachelor? I'd be lying if I said there's no way that was even a possibility. Of course it was. Colton wanted to be the "Bachelor" from the second he signed up for Becca's season. Whether producers were telling him down in Mexico, "Hey, break up with her and it'll obviously look better for your Bachelor chances," only they know. But it'd just be ignorant to think that Colton wasn't aware that he was in the running and that to be the Bachelor, he kinda needed to be single.
I feel for Tia. I'm sure they told her that "if he comes, it means he wants you…" which clearly wasn't the case. It will sure be interesting to see if he can be decisive next season. I guess if none of Colton's women are very compelling they can persuade Tia to be the next Bachelorette. They sure seem to love a good redemption story, and she has the Raven & Adam connection.
Comment: I mean, the "Bachelorette" is so far away, it's not even on my radar. Or theirs probably. We have at least 25 new girls that will be the next batch of fresh meat for the male alumni to start DM sliding into, and a new batch of fan favorites that by next March rolling around, Colton's top 4 will be the people are talking about for "Bachelorette," not Tia.
__________________________________
Hi Steve,
I'm wondering now that Blake and Jason weren't picked to be The Bachelor, do you think that Blake and Jason will be asked to be on Bachelor in Paradise next summer?
Comment: I would be stunned if both of them weren't on Paradise next season. I fully expect to see them there. These guys both look like they aren't leaving Bachelor Nation anytime soon. They seem to enjoy it. The only way they aren't is if they have a serious girlfriend come next June.
__________________________________
I know you are going to have a million emails/complaints about Colton being the Bachelor. My question is, do you know if something happened with Blake and Jason (i.e. like what happened with Peter) so they chose Colton as a default, or does ABC really think that Colton is their guy, and picked him over Jason and Blake? They chose Colton over Blake and Jason. Blake and Jason weren't offered.
Do you remember another time that there was such an overwhelming negative response to a lead? I know that Arie didn't get a lot of positive response, but that seemed to stem from the selection coming out of nowhere, and a lot of new viewers not knowing who he was. I mean, negative is negative. If I could've saved every message, text, and email from last September 7th, I'm telling you, it was just as bad, if not worse, than the Colton response.
I've never said "I'm not going to watch next season because I don't like the lead" but I am saying it this time. In this day and age, our viewership (or, our advertising dollars) is a way that people forget they have a voice. You can complain all day on social media, but as long as the money is rolling in, the powers that be do not care. I'll definitely still be reading your column weekly, as that is pretty much the only reason I've still be watching the show up until this point. I'll have gained some space back on my DVR, but won't really miss out on what is happening. Keep up the good work, love your podcasts!
Comment: And money will keep rolling in because if someone is so passionate to say on social media how much they hate this choice and they aren't watching, they are definitely passionate enough to hate watch it. It's that simple.
__________________________________
This is my first time emailing you, but I have read your site for years. I think since Ashley's season of Bachelorette. There might not be much to respond to in this email, I just wanted to let you know I follow your site and twitter and FB account avidly.
Anyways, I love you and our sense of humor is very much the same so I always appreciate your view (and sarcasm).
I have a very similar reaction to the show and am not blind to the fact that it's mostly doomed to fail, even though I got engaged after a month to the man I'm married to now (and yes, that's too fast to get to know someone, even being away from the public eye). Two kids later and we are still married four years later. But I digress.
For one, I have to say that I'm extremely excited to see Joe on DWTS. He is so sweet and sincere. I think that's why he's made it so far for only being a night one elimination. Plus his accent doesn't hurt, just saying. I can't wait to see who he is partnered with.
Secondly, while I would rather have Blake or Jason as Bachelor, Colton really isn't the worst they could do. I mean, I'm kinda sick of him, but at the same time I'm rooting for him. Plus, I'm 25, so I like seeing someone my age and that makes the show slightly more relatable for me. I'm looking forward to your spoilers and your insight!
Thanks for all you do!
Comment: I think this is a much more normal reaction to someone who doesn't particularly like Colton but is a fan of the show. I can't wait until Jan 8th next year (assuming the "Bachelor" begins on the first Monday of January like it always does which is the 7th next year), just to see how the ratings barely change for Colton's season. Then I can point back to all those who told me they weren't watching, and my answer remains the same: no one cares you're not watching, because millions of others are.
__________________________________
I listened to ben and Ashley's podcast right after paradise aired because I wanted to see how she would damage control this. She said basically what she's said before and acknowledged it wasn't awesome seeing her engagement lead right into her ex criticizing her. (Agree, it was awkward).
The reason I'm writing is because there was an interesting moment during the podcast. They had Des and Chris on and Ben asked what the secret was to their success. And Chris totally nonchalantly was like, "oh we didn't try to be famous or do anything big after, we went back to our regular lives and our old jobs." The irony of saying that to BEN and ASHLEY on the ALMOST FAMOUS podcast is not lost on me. I couldn't help but wish I could see facial reactions because it wasn't clear with just audio how it landed. Maybe none of them got it but if ben is at all self aware he had to have made the connection (esp given what Lauren hinted at during your interview) re why his relationship didn't work. And then Ashley with Kevin and even how she has embraced her relationship with Jared being presented for public consumption. (I think they will last by the way because they have years of history but it's just common knowledge that putting your relationships in the spotlight and trying to play the fame game takes a toll). Anyhow I thought that was interesting and I dont even think Chris meant to diss anyone. He was just being honest.
Comment: He was honest but also accurate. The couples that stay away from most media stuff and don't hop on every TV show thrown their way tend to do better, with Sean and Catherine being the exception. Not to mention the "Bachelorette" just has a much higher success rate to at least produce a long lasting couple because I do think the women take the show more seriously.
__________________________________
Hey Steve!
So i've always been curious that when a couple breaks up from the franchise why they don't delete their pictures together of them off their IG? Are they not allowed too? I know it may not be that deep but if I broke up with someone i sure wouldn't want pictures of us together on my instagram.
Comment: Ashley and I talked about this in one of our podcasts, and basically, it's just a matter of preference. I don't necessarily understand leaving pictures up on IG of an ex (unless it was a really long term one), but Ashley differs. To each their own. There's no right or wrong answer to it. I don't happen to agree with it, but that's just my opinion.
__________________________________
Hey Steve!
1) Do you know if Rachel is well-liked within the Bachelor family? And is her relationship with Vanessa Grimaldi still terrible? I don't think she's disliked. She definitely has her squad that still loves her. I just don't think she has any relationship with Vanessa.
2) Do you know why Lauren B and ber boyfriend broke up? Also, do you know how this is affecting their wine business? If it's having any effect at all? Don't know either of those.
3) I think the reason why everyone is so up in arms with Colton is also because it'll be like 6 months of him on our TV screens. And everyone knows he's not ready to get married based on his behaviour on Paradise. Perfectly logical reasoning. I don't believe he is either. I guess I just don't let it bother me because I know it's a TV show and just don't care enough to piss and moan about it.
4) I know that Ashley and Jared got engaged on Paradise in front of Kevin for dramatic purposes but did they not realize how tacky it would look on their part? That said, I believe Kevin's ego is hurt by the whole thing but I don't think he's actually heartbroken over her. The whole thing and the way it was presented is questionable on so many levels.
5) I'm glad you're having Taylor Nolan on your podcast. I think she's grown on a lot of people (including myself tbh). She certainly grew on me. Couldn't have been more impressed.
6) Luke Pell must be devastated he wasn't named the Bachelor…again Haha.
Thanks for all you do!
Comment: I'm sure he was holding out and boy, his new girlfriend Amanda clearly has no idea what she's getting into. I can only imagine how long it is before Amanda reaches out to Holly with an email that starts with, "Hey, so I should've known…"
__________________________________
RS
I just read today's post about Colton as the Bachelor. How did the network take so much shit on casting questionable guys on Becca's season. Lincoln didn't even show on the MTA and Chris H never even addressed it or it didn't air to the public. Not sure if Leo's sins get brought up on the reunion show. Becca answered few questions on interviews about it. I'm not seeing how the network took backlash / shit on this. The show still gets ratings. Did you not read all the negative publicity they got. Yeah, people still watched her season, but when major news outlets are all running with negative stories regarding your contestants, that's not necessarily great for business. They got raked over the coals this season for their casting.
Also – why does Colton have more followers than Blake and Jason. Women generally don't like men that won't commit – that doesn't make any sense to me.
Comment: I don't know how in the world I'm supposed to answer that question. Why does someone have more followers than someone else? Uhhhhh, because they do?
__________________________________
1. If you told me Jef Holm or Luke Pell were going to be the next bachelor, I'd be annoyed and would not tune in. BUT what you see is what you get with them, kind of. Luke, it's obvious he wants the followers and the fame and everything, you know? I think a lot of people's problem's with Colton, at least from the people I've talked to and have seen online, is that he obviously is in it for fame too (IE asking Aly Raisman out publicly, DM'ing Tia, only to dump Tia when she wasn't the bachelorette and then getting back with her only to dump her again to be in the running for the bachelor) but people get distracted by the charity and the kids and the virgin thing and it's discreet enough to make you not like the guy because it just seems sneaky and calculated. Does that make sense? I don't know- I just think he's disingenuous and I couldn't have agreed more with Raven's take on it. I don't disagree either. Like I said, all the reasons people have for not liking him are justified. I just don't get what bitching and complaining about it does. He's the "Bachelor." Nothing is changing that. He isn't the first "Bachelor" to do it for fame and notoriety and he won't be the last. So I don't fully understand what makes him any worse than those before him.
2. Kamil posted a picture and captioned it, "three amigos" with Jordan. Wasn't paradise before the MTA taping? And weren't they fighting on stage? I didn't think much of it at the time since Kamil was barely on Becca's season, but now I'm wondering if that was even real? The back and forth about modeling and stuff. I know they probably get over it, but how manufactured are these reunions? Very.
3. How is the new dog? I know beagles can be high energy so wondering how you're handling it! It's going great. She's definitely high energy, much more so than Maddie, so it's taken a little getting used to. But she's been a blast. Today will be an interesting day because I'm leaving her for the next 4 days. Won't be back til Monday. She's in the doggy resort til Saturday, then gonna stay at my sister's until I come home on Monday. I have no idea how she's gonna react in a new environment.
And lastly,
4. Why are they trying to sell Grocery Joe so hard? Why him over Becca, the actual bachelorette, for dancing with the stars? I know they don't ever cast lead bachelorettes for whatever reason, but I've been watching paradise, granted, I've only been watching like 3/4 of the episodes but I just don't understand. Is he saying much, is he funny? I didn't even think he was on much of the episodes. It's all weird to me.
Comment: It's a pretty amazing "rags to riches" story. Unheard of in this franchise. The only people to ever make DWTS from this franchise were leads. And all male leads except Trista, but that was season 1 so it doesn't count. And Melissa was a last minute injury replacement. So it's kind of a head scratcher, but the dude has capitalized on it. I'm sure Kaitlyn is thrilled.
__________________________________
Send all links and emails to: steve@realitysteve.com. To follow me on Twitter, it's: www.twitter.com/RealitySteve. Instagram name is "RealitySteve," join my Reality Steve Facebook Fan Page, or listen to all my podcasts at Apple Podcasts. Talk to you tomorrow.