So with everything we've seen up to this point, all the clips we've seen of the end, the information I've gotten behind the scenes, we're a month away from the finale, so let me give you as much I can right now. However, I'm telling you, you're still going to have questions. Nothing is black and white about the rest of the season. As I said from the very beginning once filming was over, there were two things I specified: this was not a normal ending and there was no engagement in Australia on final rose ceremony day. There are things in this timeline that I just don't know yet. This is more about the HOW not necessarily the WHO. Because I've said numerous times over the last couple months: this is between two people: Madison and Hannah Ann. Hannah Brown, producers, anyone outside the top 2 – none of those people have anything to do with the finale. I hope you see that by now. If you're holding out hope for something like that, it didn't happen. So let me fill you in on what I can.
And even though I don't have everything set in stone, I feel pretty good about reporting what I can today. Although considering the wrath of some people online, this could backfire. When I get told I know nothing, or I was wrong about the Mykenna & Tammy 2-on-1, or Victoria P. didn't eliminate herself and people use that as their narrative that I'm wrong, it just makes you shake your head. They're acting like I told you Victoria P. got eliminated in episode 2, when she really lasted til episode 6. I'm giving you the right elimination in the right episode and that's still not good enough for some people. Mykenna got eliminated 5 minutes after the 2-on-1 date happened, but since I said they both got eliminated, that means in people's minds I was wrong and know nothing about this season. I'm having a hard time understanding why people have to nit pick everything? Like I said, you act like I gave you nothing all season. If I were to list every correct spoiler I posted before you even saw a clip of this season, it'd honestly be about a 100 points long. So if you have to come back to me with "But you said Mykenna got eliminated with Tammy" as your argument, then you're basically just being a troll, honestly. And by the way, just because they showed Peter eliminating Victoria P. completely out of the blue, doesn't mean it wasn't made aware to him that she needed to leave by a certain date. Just keep that in mind when you try to use that as an argument.
I believe I said last week that 90% of the guesses people have had this season on how this all plays out has been, "Oh, Madi leaves and Peter chases her down. That's who his mom is talking about to 'bring her home.'" And on the periphery, yeah, I'd say that's the gist of this season, but it doesn't tell the whole story. Because there are still holes in the timeline in terms of when and how things happen. Lets start at overnight dates and go from there, since we know Victoria F., Hannah Ann, and Madison are the 3 women who go to Australia. And we know from previews that Madison is the one who makes it known that if Peter has sex (or is intimate with anyone), that would be hard on her. According to Robert Mills, apparently she tells Peter this during their overnight date: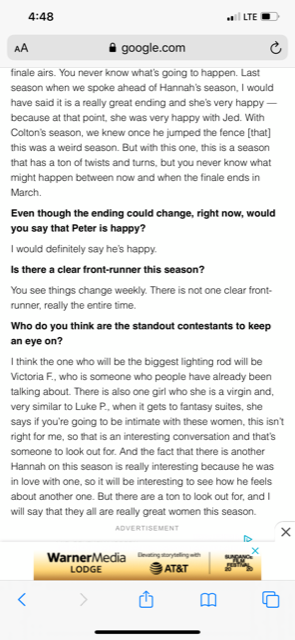 What I can report to you today after trying to get this confirmed over the last couple months is this: Peter does have sex in the overnight dates. Shocker, I know. However, Madison doesn't find this out because Peter tells her, but from Victoria F. and Hannah Ann. There is a girl chat that happens during overnight date week (presumably after all the overnights happen), where they are the ones to tell Madison that sex happened with Peter. One or both, I don't know for sure, but since both women are the ones to tell Madi, I'm going to assume it was both of them. Immediately I know you have questions. Most notably, "How and when did this happen?" Because as we know, once final 4 hits, these women are always separated from each other and the only time they even see each other are at rose ceremonies, and you don't get to chit chat about anything. All I know is that Madison first heard about Peter having sex in the overnights during a girl chat with Victoria F. and Hannah Ann. We've seen an ITM of Victoria F saying, "I can't believe she waited this long to tell him she's a virgin," so that helps us in knowing that surely Peter didn't tell Victoria F. on their overnight that Madison is a virgin. Which means she must've heard it from Madison during the girl chat. Trust me, there are a lot of voiceovers, coupled with ITM's that we've seen that I've literally been going over for 2 months. But bottom line is, Madison has a girl chat with the other two during overnight date week and that's when she first learns Peter had sex on the overnights.
We also know that Victoria F. is eliminated at the final 3 rose ceremony, meaning Hannah Ann and Madison are the final two. As I reported, Victoria F. has nothing to do with the finale. We don't see her again, she doesn't pop up and talk to Peter about anything, and there is no debate she was sent home at the overnight date rose ceremony. Once we're down to our final 2, that's who meets Peter's family, then each get one last date with Peter, and then the final rose ceremony. In a normal season. This isn't a normal season. What I can also report is what many people have suspected this season:
Madison self-eliminates this season.
But again, I'm not sure exactly at what point this happens. We know it has to happen after the overnight date rose ceremony, because that's where Victoria F. is eliminated. But does it happen before she meets Peter's parents? It seems like it does, but I don't have confirmation on that. Another thing I can report to you, and reiterate again because I said this at the beginning of the season, is that Chris Harrison's speech to Peter on final rose ceremony day, is NOT to tell him Madison just left. That's a bigger conversation than, "I just thought you should know," which is what Chris says at the end of that speech. That speech from Chris has nothing to do with Madison.
The other aspect about Madison's elimination becomes this: when she left, did she actually leave the country and go home, or, did she leave like Cassie did last season and take herself off the show, but was still there. My money is on she is still there, because I don't think they would send her home. Lets for arguments sake say when Madison self-eliminated, she literally was allowed to get on a plane and they sent her home. Well, that means only one woman would be there on final rose ceremony day, and that would be Hannah Ann. If Peter always wanted to be with Hannah Ann, and she was his #1 choice, and that's who he was all set to be with on final rose ceremony day, wouldn't that make that final day of filming one of the easier final rose ceremonies ever? One of the two women aren't even there. Sweet. Don't have to break her heart and send her home on the last day, Hannah Ann is here, she's the one I want, and in the words of Becca Kufrin, "Lets do the damn thing." But we know this is not a normal ending and there's craziness on final rose ceremony day. So I don't think once Madi self-eliminated she left the country, and she's still "there" in Australia on the day of the final rose ceremony. Will we see her? I don't know.