The season goes on and now we're only 3 weeks from finale night. The WTA tapes Friday as you know. Overnight dates airs next Monday, WTA airs on 3/2, then the two night finale is 3/9 & 3/10. For those asking about Victoria F. and will she be at WTA on Friday. Right now, my guess is no, because I think her getting eliminated at the overnight date rose ceremony isn't going to be shown until the beginning of the episode in Part 1 of the finale on 3/9. Just like they did with Peter last season, remember? He got eliminated at #3 in Greece, but he wasn't at the MTA because he appeared at Part 1 of the two-night finale. Jed and Tyler were on Part 2 the next night. So actually, I'd be shocked if Victoria is at the WTA taping on Friday, but I'll know for sure that day and I'll tweet it out. The only way she's there is if the overnight date rose ceremony is actually shown next week. We don't know if it is yet, I'm just guessing it won't be since we have a two-night finale the following week, and this is following the same exact pattern as Hannah Brown's season. Stay tuned. By the end of the week I'll have your definitive answer.
Before we get into a lot of the goodies today surrounding Victoria F. since basically I've been pretty quiet on her since the day I posted her story, a few things to get to today. First off, US Weekly reported yesterday that over the weekend Chris Bukowski and Katrina Badowski went on a date. This is great and all, but I hope all of you have a good memory. Back on September 17th, Paradise had just finished airing, and Chris and Katie were STILL a thing, I basically willed Chris and Katrina into existence 5 months before it happened. We all remember this, don't we?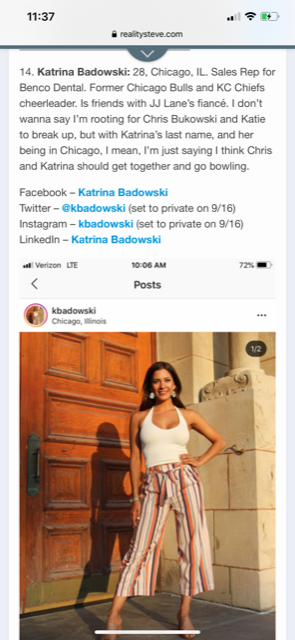 Soooo yeah, if this is true, I take full credit for these two. You're welcome you guys. I'll be waiting for my wedding invite in the mail. Now, US Weekly is known to exaggerate things, and I do remember seeing pics of Chris, Katrina, and someone else from this past weekend posting during NBA All-Star Festivities. So maybe it was a group thing that US Weekly turned into something romantic. Wouldn't be the first time they did, and certainly wouldn't be the last either.
Some unfortunate news in Bachelor Nation. Fresh off the heels of Joe and Kendall's break up a couple weeks ago, the lone remaining couple from that season has called it quits, and Chris and Krystal announced on Valentine's Day no less that they've decided to separate. Now, Krystal posted on her personal FB page apparently that they are just separated and taking time away from each other, but, things don't look great. I think a lot of us would be surprised if they reconcile. Who knows? Maybe they will. But from everything I've heard? Not happening. We'll see. However, this was not the Bachelor Nation information I hinted about back in November as I was asked that numerous times once this story posted last Friday. As I've said from the very beginning, when/if that story breaks I will tell you "that's the one I was referring to." You don't need to keep asking every time there's a Bachelor Nation story. You will know because I'll tell you. Will it break? If so, when? I don't know. People in BN know this story. I'm not sure why no outlet hasn't run with it yet.
Did you see the first promo for "Bachelor: Listen To Your Heart" last night?
Will they make the perfect duet? ?? Find out when The Bachelor Presents: #ListentoYourHeart premieres April 13. pic.twitter.com/yiB9o5VvGl

— The Bachelor (@BachelorABC) February 18, 2020
Good lord. Gonna be the same extra drama, except with different contestants. And that filter they have over some of the shots that looks like a Barbara Walters special I hope was only for the promo. I swear if we have to watch episodes in that filter like someone is running through a meadow, I might have to throw a toaster at my TV. When you have the same format, same producers, same host, etc you can expect pretty much exactly what you get from the "Bachelor" franchise except with musically "gifted" contestants. But yeah they are definitely gonna start to shove that down our throats now. I'm sure we'll see a longer promo during the WTA taping on Friday. Count on it.
Get your "Reader Emails" in for tomorrow, although I already have quite a bit. I know "Dr. Reality Steve" has been absent and so has the "He Said, She Said" podcast with Ashley Spivey. Trust me, it's not gone for good. If you've looked at Ashley's IG stories over the last week, she's been on a cruise to Catalina, then was in Sun Valley, then was in Miami. So she's been a bit of a busy bee. Once she settles back in we'll start recording again. And speaking of Ashley, she will be attending the 6th Annual Reality Steve Fan Appreciation Party again this year with her husband Steve, so that's great news.
As for the party, I'm basically at capacity at this point. Unless you are flying in or coming in from out of state, I don't have many spots left. If you are still interested in attending on June 5th at Caesars Palace, and you are from outside the state of Nevada and think you can book your flight or hotel room this week, I might be able to get you in. But you'll have to hit me up immediately. First time I've had it at Caesars Palace and I'm looking forward to it. I've already checked out the room this year and it's two stories, so those that were in attendance last year, I think that will solve the problem of the room being unbearably hot. Anyway, last chance for out-of-state'ers to RSVP. Let me know this week and I'll see if I can get you in.