I wanted to bring up the "Men Tell All" right off the bat since we now have a date on when it's airing. As I mentioned, the "Men Tell All" was filmed a couple weeks ago and they flew the guys out to Nemacolin to do it. None of Tayshia's final four of Ivan, Brendan, Ben, or Zac were in attendance. I can also now report that, well, barely anyone was there. There were only 9 guys in attendance. I know of six who were definitely there: Jason, Yosef, Demar, Ed, Bennett, and Noah were for sure there. I don't know who the others were. So a 9 person MTA with one guy who never even met Tayshia (Yosef), and one guy who barely met her and eliminated himself (Jason), just seems quite bizarre. But we'll see how it goes. There's always drama, we know that. And with Yosef there, and me already reporting that he didn't take back his behavior, well, there's some drama already. So now that we know the MTA airs on Monday, the 14th, that means three episodes will air after the MTA: the 15th, 21st, and 22nd (finale). I have no idea if they're doing a live ATFR during this pandemic or not. I guess we'll find out as we get closer to the finale and they send out a press release on what the finale will entail. But showing the MTA 3 episodes before the finale now makes sense because none of her final 4 are on the show. So it's starting to at least make a little more sense.
Lets talk about Eazy real quick since there's a story out there now that I linked to and tweeted out yesterday, which you can read here. I deleted the tweet because there was some things in the original story that weren't supposed to be in there. I spoke to the accuser, and the author of the story on DM and it got cleared up. The basics of it are what you seen now in that first story. She spoke again with NZK legal counsel, who say they spoke with Eazy, and he says any activity between them was consensual, therefore the allegations are inconclusive. A few things here:
1. Of course he's going to say that. What did you expect him to say?
2. What, that's just the end of the investigation and because Eazy is off the show now, that's it?
3. Isn't their handling of this the exact reason why women are scared to come forward? For fear of being ignored and/or not believed?
So many things wrong with this whole scenario, but here's where we're at now. Eazy is no longer on the show. Seemingly the only thing in this franchise he could possibly be a part of in the future is BIP. Knowing that they will have FOUR DIFFERENT CASTS to choose from, if they STILL insist on casting Eazy for BIP, then they truly don't take allegations seriously. They'll have plenty of more qualified and better people to bring on BIP. You can leave Eazy out of it. He's not a MUST have for any future BIP season. Not that hard. But we've got 6 months til that happens, so time will tell.
You see the little rose ceremony snafu one of the Bachelor IG accounts posted after last night's episode that was immediately taken down? This picture was posted: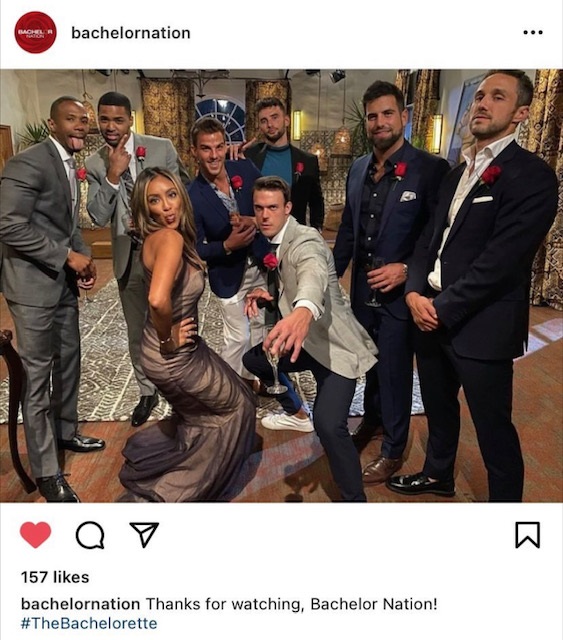 Seemingly, that's a picture of who still has a rose after the next rose ceremony. 12 guys started last night's episode, but there are only 7 in that picture. We know Eazy didn't get one, we know Bennett loses out to Noah as well. Demar, Spencer, and Ed are all missing. I highly doubt they were off camera and just happened to randomly miss the picture. So we can now assume those will be the three eliminated at the rose ceremony once the next week's episode happens. My original thought was 2 would be leaving and I knew one was Spencer. I assumed that Ed or Demar was the other one because I knew Noah and Blake made at least final 6. So Ed, Demar, Riley were the three I didn't know what order they were eliminated, but now we know Ed, Demar, and Spencer are next week. Riley is most likely after that.
Of course, the other pic that everyone is talking about from yesterday is the one of Tayshia in her IG story, recording her "Click Bait" podcast, with seemingly an engagement ring on.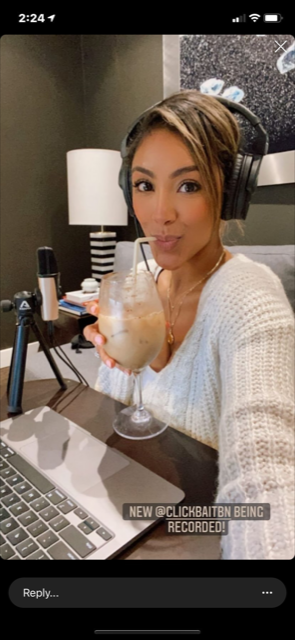 I was only asked about it 50 times yesterday. Here's my response: I don't know if it is or isn't, or if it's a ruse or what. But that's not what I've been told all season. So if that's an engagement ring, that's news to me, because as far as I was told, there was no engagement at the end of this season. I can't imagine she'd be that stupid to take a pic with her ring on if she's engaged, but, we've seen people spoil it in the past, so I guess it can't be that unbelievable. So we'll see going forward exactly what that's all about. All I can tell you is what I've been told. Do with that what you will.
While leads don't get to have their engagement rings while the show is airing, that's for in public. On Happy Couple weekends, yes, we've seen that numerous times in past seasons where at the finale we see footage of the previous few months of the final couple together and the girl is showing off the ring. But that ring is given to them before the weekend starts, it's returned at the end of the weekend, and the couple is never let out in public. I was told yesterday there are those that are convinced Tayshia is engaged, this past weekend was a Happy Couple weekend which is why she has the ring on, and that she's with Zac because he was the only one of her final four who didn't post IG stories this past weekend verifying his location at home. Great. Don't know that to tell you, but that's not what I've been told happens this season. So let the conspiracy theories fly!