-The first group date of 9 women had Ben Higgins there to help and was the "Fall in Love Fest" where they had to do a bunch of stupid shit for a relay race and the winner got a "special prize." Good God what a letdown this was. Paddle in a pumpkin boat, put on a squirrel costume, find an acorn, run to finish line. Yeah, nothing about that was remotely interesting nor needed Ben Higgins there to announce it. Especially considering Matt basically knows nothing about this franchise, for the second week in a row, I'm guessing he really didn't have a clue who Ben was other than maybe seeing his name before. Robert Mills specifically said these one location shoots are the reason why they're bringing alumni back to be part of dates and what not. Doesn't mean it's necessary though. Mari ended up winning the relay and her "prize" was a trophy shaped like nuts Chris presented to her while saying, "Congratulations Mari, these nuts are yours." And the streak continues of having group dates that have some sort of sexual innuendo involved with it.
-This after party was marred by the storyline that Anna says "There is a rumor because she knows all of the rich men in Chicago that Brittany may be an escort," and "She may be having a transactional relationship with wealthy men." If we're doing a bottom of the barrel ranking from last night's episode, you can make an argument that Anna came off worse than Victoria did. Nothing that came out of Anna's mouth last night made her look good. But lets back up a second, because some of you seem to be confused. I got asked multiple times last night something to the effect of, "How could Anna have been told about Brittany if she didn't even know she was gonna be on the show, AND, Brittany didn't come on the same time as her." Fair question. Let me refer you back to Chris Harrison's introduction of the girls back on Dec. 11th:
Chris Harrison is giving you all of the deets on the women on Matt James' season of The Bachelor ?LIVE?! #TheBachelor https://t.co/BsnIgU7dtW

— The Bachelor (@BachelorABC) December 11, 2020
When Chris got to Kaili at the 20:45 mark, he says:
"Kaili works in the club scene in Chicago, and I'm gonna ask you to remember that. Not a spoiler, but just remember working in the club scene in Chicago because that job is gonna lead to her being embroiled in a pretty big dramatic storyline this season."
Uhhhhh, yeah, we never saw any of that from Kaili last night once Brittany arrived. It was all Anna. So my guess is, Kaili was the one who was talking about it, we never saw it as an audience, but once Kaili went home at the rose ceremony, Anna was the one who carried the torch and re-told the story. Not sure why Anna didn't just say she heard from Kaili, but the fact that Chris basically outed Kaili during that intro back in December all but confirms to me that Anna's information came from Kaili. I don't know why Anna thought continually harping on that subject all night was the smart thing to do, but, she did and now she's getting a ton of criticism for it – as she should.
And here's the most ridiculous, crazy, ironic part of what Anna is calling Brittany out for. ANNA IS A BOTTLE SERVICE GIRL HERSELF. Or was. So she's meeting and running with that same clientele that Brittany runs with. She worked at El Hefe in Chicago: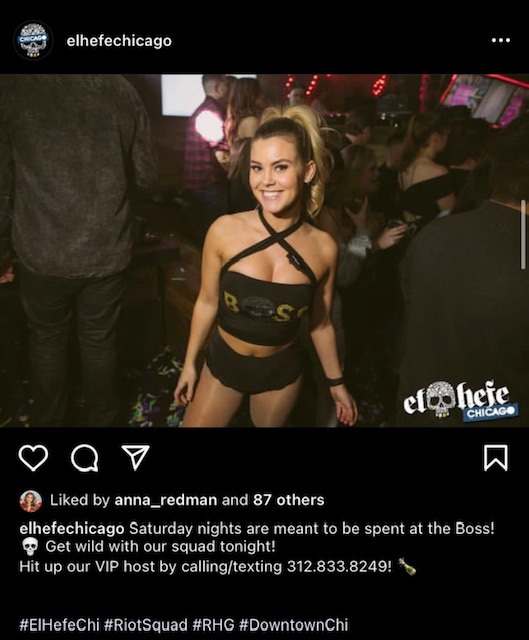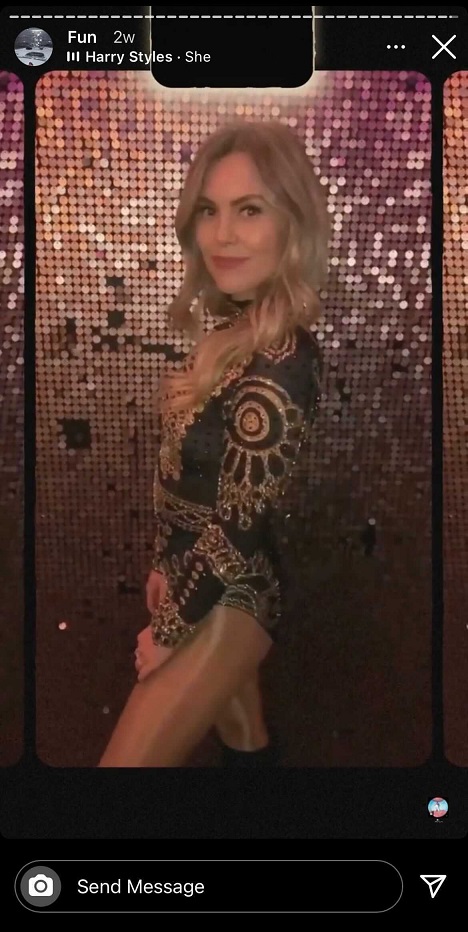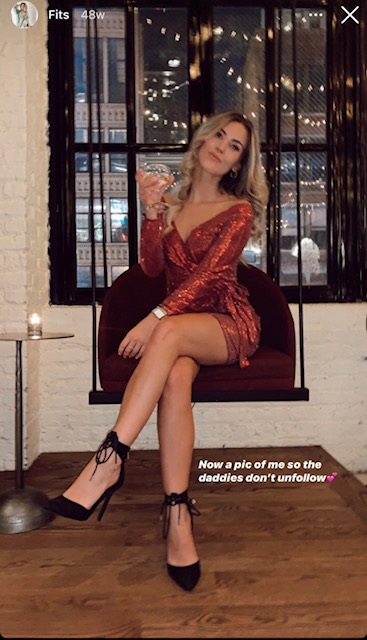 So if Anna didn't already look bad enough last night for what she was accusing Brittany of, now she looks even worse. Not because I think Anna is an escort, I have no idea if she is or not nor do I care, but when you're calling out Brittany for being one and you do (or used to do) the exact same type of work as her, it's about as hypocritical as you can get. The whole thing just reeks of irony.
Then when Anna actually confronts Brittany to her face, she basically says, "I think that's an awful thing to say about someone and I want to apologize," yet you've just said for a third time publicly that you heard Brittany is an escort and haven't provided any proof. Just word of mouth stuff. Can you imagine if I came on my blog and did something like that. Just accused someone of something without any proof whatsoever and just ran with "Well, someone told me this happened." Oh wait, I did. The Jenna situation. I was wrong and I was crucified – and rightfully so. So yeah, Anna there's so many things wrong with what you did and HOW you went about it. So what IF she is an escort? And? And why are you the one that needs to share it? If she is, I'm guessing she'd tell Matt that at some point because it'd be found out eventually if she didn't. Anna gets negative 1000 points for last night.
-The other storyline last night that drove me absolutely nuts (and apparently Katie too) was this OG vs the new girls feud. The OG girls did nothing but treat the new girls like shit fooooorrrrr…what? Because they arrived later? Yes, I get being protective and not wanting to deal with more women, but what wasn't ever addressed last night is HOW IS THAT THE NEW GIRLS FAULT? It's not like they chose to sit out the first 3 episodes on their own and said, "Ok, NOW lets go in." Again, production will get none of the blame when it's basically 100% on them. They knew by bringing in the other girls later, the OG cast would feel slighted and lash out. And boy, did they ever lash out. We have Victoria calling one a "slore," we had all the other girls not being the least bit warming to them, they talk about fighting and punching them out, etc. All because of something production did which gave them the result they wanted. It was pathetic to watch.
-Katie was the only one who stepped up and felt the new girls were being treated unfairly. She told the OG girls to basically knock it off, then she went and told Matt at the group date after party THAT NONE OF THE NEW GIRLS WERE EVEN ON. That group date was a boxing match, but it was all with the OG girls. Yet they all kept talking about "yeah, they're lucky none of them are on this date" blah blah blah. Please. Shut up. It's nauseating. You're mad at them for something they had absolutely no control over? I guarantee any one of those 16 OG girls, if THEY were in the new girls shoes, they'd feel intimidated walking in and would just hope someone would be nice to them and talk to them like normal humans. But yet since they're in the majority, they trash talk and bully them. Par for the course for this show, and they absolutely ate it up.
More of the same coming next week I'm sure. And for those asking how much longer Victoria stays? I'm pretty sure she's gone at the next rose ceremony. If not the next one, then the one after. She doesn't have much time left. So that's a good thing.
Send all links and emails to: steve@realitysteve.com. To follow me on Twitter, it's: www.twitter.com/RealitySteve. Instagram name is RealitySteve, or join my Reality Steve Facebook Fan Page. Talk to you tomorrow.