So did you make it? Did you all survive the apocalypse yesterday? I hope you did. Hope you're still around and available to integrate yourself with the rest of society. I think yesterday showed how much of a role social media plays in our lives. Well, for most people. I'm not a huge IG guy as you know. I don't use it for personal anymore, just all for when I post columns and podcasts, and use my feed to post spoilers. Like today. More on that in a little bit. But to have it down for a good 6 hours yesterday, yeah, I found myself constantly checking it to see if it was up yet. So while I don't use it to post too much myself, I'm certainly on it looking peoples stories, IG, reels, etc. To have it down during the majority of the day yesterday when I usually look, yeah, it felt like the Twilight Zone. Basically I realized when I'm bored, I scroll it. And since most of my days are pretty mundane and boring, that adds to how much I look at it.
So the big news to come from this weekend was the adoption reunion I attended on Sunday where Luka met her son Buster, who she was separated from 3 years ago. Basically it was pretty uneventful in the long run. Neither dog recognized the other and it was really no different than taking her to the dog park. I took one video and some pics:
Luka and Buster. He's the bigger one pic.twitter.com/JIQ9rsW8YQ

— RealitySteve (@RealitySteve) October 3, 2021
She still loved being there because of the amount of treats that were available. She had a field day with those. I think it was cooler for me to meet her son, or hell even find out that she had a son, than it was for her to meet him. No recognition whatsoever from either her or him. As you can see, he got really big and was well behaved. Luka did fine there and was excited to see other dogs, walk in a different park, and eat treats I'd never bought before. Doggie heaven.
A couple things to get to first before your spoiler you've been waiting for. First off, the Dale & Clare saga that hit the entertainment sites around last Thursday. Quick recap: That Ducks Moy IG account, which prints anything sent to them and readily admits on both their IG account bio and website that they "do not claim any information published is based in fact," posted this IG at the beginning of last week: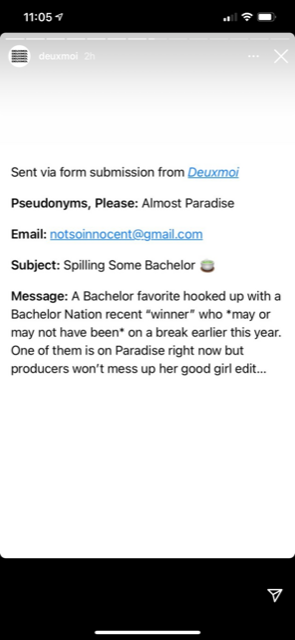 Then a few days later, rumors started circulating that the people being referenced in this tweet were Dale and Abigail. So with rumors flying around, Clare posted this on IG last Thursday:
Pretty clear who's she's referencing here. She also tagged Abigail in it. A follow up story by US Weekly said that Abigail was the one who untagged herself in it, not Clare accidentally tagging then untagging. Dale's team responded after Clare's post saying Dale never hooked up with Abigail. Then Dale's team responded again yesterday giving the timeline of their breakup. So this has turned into a he said, she said. I'm not involving myself in this. If someone wants to speak on record, or photo/video evidence is provided, that's where I will gladly put forth a story. But I'm done being the middle man and have been for the last 5 months or so, you know that. You've read Clare's IG. You've read the two statements Dale's team has released through the media. I guess it's up to each individual to decide who they want to believe.
Michelle's season begins two weeks from tonight and there's been a few spoilers that I've given out during the season. Certainly moreso than any other season that was shot in the proverbial "bubble." But still, not a whole hell of a lot known in regards to dates, eliminations, etc. And I don't know if I will get that breakdown. We know that 12 men made it to Minnesota, and the two 1-on-1 dates on that first episode in Minnesota were Joe Coleman got the Minnesota Twins date, and Nayte Olukoya got the boating date on Lake Minnetonka. Then there was a 10 person group date that I have video of but it's tough to make out who everyone is besides Clayton.
We also know that Peter Izzo got a date right before rose ceremony #6, and then Nayte got the first date after rose ceremony #6 by pictures I posted. After that, nothing else really. Don't know who made final four, or how hometowns worked and if they followed through with traveling to four guys' hometowns. So there's still stuff to find out. HOWEVER…
The main thing you want to know is what happened at the end, right? Well, I got that for you. Had heard rumblings since the season ended but got the confirmation I needed the end of last week.
Michelle is engaged to Nayte Olukoya.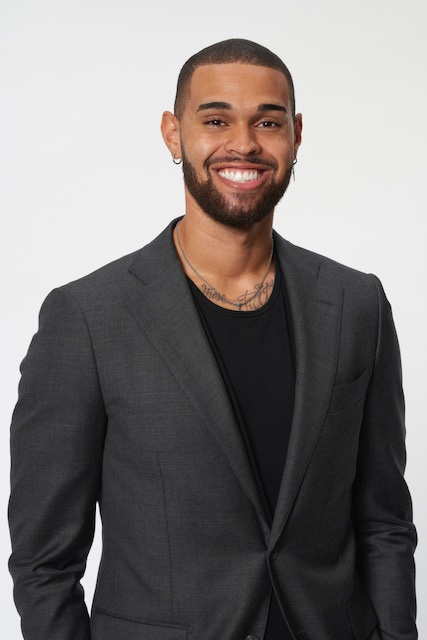 Here is his bio from ABC's page if you want to know a little more about him. Not a ton out there. He's 6'8", originally from Winnipeg, went to college at Eastern Washington University, and now resides in Austin, TX. Before the show he was working for Indeed.com, but I don't know if he's gone back there since filming ended. Here were the tweets about Nayte's date back in August that I posted:
More pics… pic.twitter.com/avgjuK7Mck

— RealitySteve (@RealitySteve) August 17, 2021
(SPOILER) Her 1-on-1 today was with Nayte Olukoya, the guy she was on the boating date with on Lake Minnetonka 2 episodes ago. https://t.co/yUhTkWdz4h pic.twitter.com/y70WTWBQbt

— RealitySteve (@RealitySteve) August 24, 2021
So I've got a couple weeks to find a little more info for you on this season and I guess I'll be working backwards now since I have your ending, a few of the Minnesota dates posted a while ago, and that's about it. But hey, I'm sure you'll bitch that I don't have the first impression rose recipient, right? Yet, if I had that but not the winner, you'd bitch you don't care about first impression rose when I don't have who won. Can never win with some people. Oh well. The show is two weeks from starting and now you know who won. I hope that pleases at least some of you.
"Reader Emails" begins on Page 2…