Again, a lot to get to today before we hit your recap. I know a lot of you have been asking for the episode-by-episode spoilers. Here's where I'm at: I literally have two eliminations and two dates that I don't know and am waiting to get. I'm giving myself another week. So regardless of if I have them by next Monday, I'll be posting what I have then. At the end of this week's post, I have your eliminations for the next two week's along with the dates for next week's episode, but by next Monday, you'll have everything laid for you from South Carolina on. I just always like to have everything together in one post and I hate splitting it up. So I will post that for you next week, even if I can't nail down which date and which elimination happened when overseas. It got a little tricky with who did what and when, but I think I'll be able to get it. If not, it doesn't change your final four and the breakdown from there since we know those. So yes, you will get that at the latest next Monday. The "Bachelorette" is always trickier because the turned around time is only two weeks from filming ending til first episode premiere. And it usually takes me a 2-3 weeks to gather everything. For "Bachelor" I have 6 weeks to get everything. Sorry for the delay.
As for "Paradise" tomorrow's post will have all the things I've heard heading into filming beginning this weekend. I know there are contestants leaving sometime this week, and knowing once you're there, you only stay for a couple days before filming begins, my guess is filming starts on BIP 4 Saturday or Sunday. There is A LOT of stuff to get to tomorrow, some of which I'm sure you'll be surprised about. The amount of hookups and back end deals heading into this thing will make your head explode. Not to mention that it'll make this season probably the most fake one they've ever done since, well…you'll find out tomorrow. Even I can't believe some of this mess.
Get your "Reader Emails" in for tomorrow as well as "Dr. Reality Steve" emails in for Thursday. We are low on both right now. And of course if you want to be a part of the podcast Sharleen and I are doing for Stitcher Premium starting next month, hit either of us up with your question/concern regarding anything in your relationship/marriage/sex life/dating life. This show is for you guys. We already have a couple calls lined up, so if you want in and you have access to Skype Audio, let us know and we'll set up a time to begin recording.
Some sad news to report in Bachelor Nation as Michael Nance, formerly of Emily Maynard's "Bachelorette" season, died yesterday. There are a few guys from her season, along with Elan, who have tweeted out their condolences to family and friends. Never fun when someone from this franchise dies, and my sentiments are the same for Michael's family and friends. Even though he wasn't the most memorable character from the show, a lot of people have had good things to say about him.
No real good segue after a story like that, but there's a programming story you should make note of. The "Bachelorette" WILL NOT AIR on Monday, June 12th due to Game 5 of the NBA Finals. Even if one team happens to sweep and the series is over in four, it still WILL NOT AIR, and instead a repeat would run. I put that in all caps, and will mention it again next week as well, since I can pretty much guarantee that on Monday the night 12th, there will be plenty of emails/tweets asking, "Is the Bachelorette" on tonight. The answer is no. No new episode on Monday the 12th because of the NBA Finals Game 5. I was wondering when I saw the "Bachelorette" finale airing August 7th and now I have my answer. May 22nd to August 7th was 12 weeks. The show only last 11 weeks. Well, now we know why. Repeat on the 12th. Mark it on your calendar and don't forget it.
One thing that was brought my attention last week. Well, two things: One, Britt is engaged. And secondly, she wrote a blog post explaining what's been going on in her life recently. Most notably, she was jobless and had no money. Now, obviously if I knew that was the reason for why she was asking for money to come on my podcast, I never would've mentioned it. I jumped the gun, probably gave her unnecessary stress afterwards, and so for that, I apologize. I've sent an email to her team apologizing as well.
You can file this under the "Incestual Bachelor Family" Category: Bryan Abasolo has dated Jubilee Sharpe in the past. It's not like it was a long term thing, or they were on the verge of marriage or anything, but I can confirm to you that Bryan and Jubilee did have a thing that was somewhat recent. What does that mean in the long run? Not a whole hell of a lot, but I thought you should know since people love hearing the six degrees of separation this show can bring.
We all know that Whaboom is a character strictly brought on for entertainment purposes this season. There's always someone like this, so Lucas being on Rachel's season shouldn't surprise anyone. His is just a little more profound and his IMDB page is a little more full than some past contestants. But yeah, I don't think anyone should condemn the guy for it. Condemn the show. They're the ones that cast him. Lucas didn't just all the sudden walk on the set and demand to be on. He's a bit that is strictly there to get people talking about the show early on. Whaboom was trending on Twitter last Monday night, so that pretty much answers your question about why he's on the show. Here's a clip of Lucas on the Fox gameshow that lasted a hot minute a couple years ago, "Bullseye," hosted by Kellan Lutz and comedian Godfrey. He even Whaboomed back then. His clip is from the 15:00-17:20 minute mark:
Speaking of Lucas, quite the triangle he was in with Blake E. We know they were both on the same season of WE TV's "Ex Isle" in 2016. So I did a little digging to find out exactly what this triangle was about. Here's the best I can explain it: If you didn't see the show, it was similar to "Temptation Island" from years ago (which was awesome by the way). Anyway, they bring on couples who are having "issues" to try and work things out. Lucas and his ex Brittany were one of the couples. Then a few episodes in, they bring in "hot" singles to add drama and try and break the couples up or test loyalty or whatever. Blake E. and Brittany ended up having a thing and technically split up Brittany and Lucas. But in the end, they had to make a decision to say with their current person or leave single. So yeah, "Temptation Island" all over again. Brittany and Lucas chose to stay together. A while after the show ended (and I'm assuming after Lucas and Brittany officially ended things), Brittany and Blake E. became "roommates" and lived together before she moved out. Apparently it didn't go so well judging by this tweet from her last Monday night: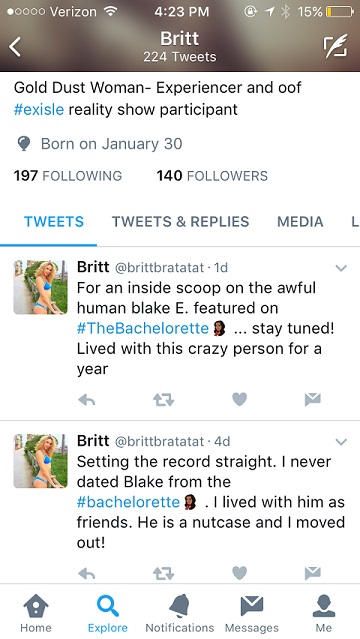 And you figured since Blake brought her up on the show last night saying he evicted her, she'd probably have some sort of response. She didn't disappoint: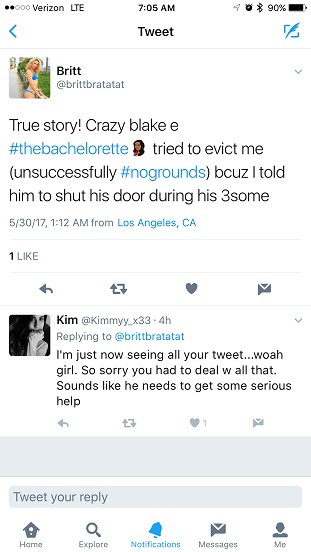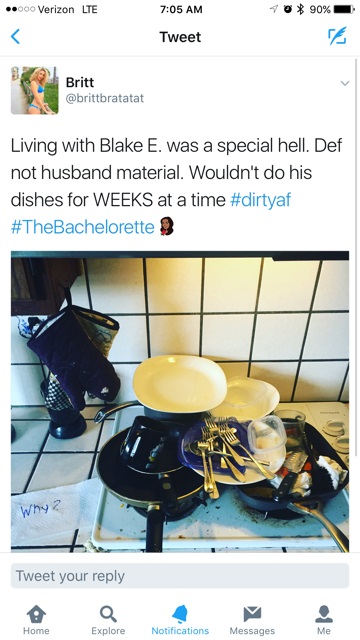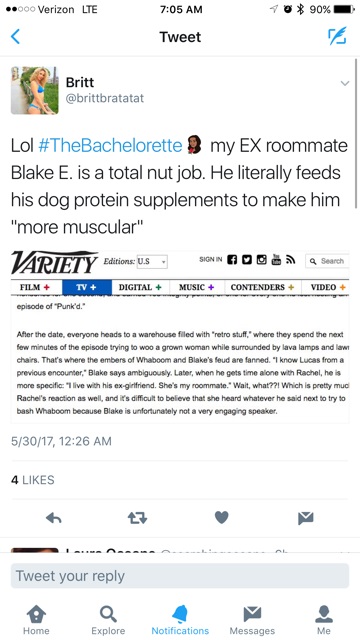 Last week I referenced the fact that Molly Hawkey, the woman who created parody videos inserting herself into Ben's season, was gonna be back this season as a "contestant" on Rachel's season. Her first video posted last week. Damn, she really has this thing nailed down, no?
Ratings are in from last night and the "Bachelorette" did 5.6 million viewers with a 1.7 rating. Last year's Memorial Day episode for JoJo's season did 5.8 million and a 1.6 rating. So JoJo had a bigger premiere than Rachel, but Rachel had a better second episode. Will be interesting to keep an eye on this throughout the season.
And finally, this week's poll question. Where are you at with your level of Whaboom right now?