RS,
Thanks for all you do. I really loved the Brittany and Sydney podcast as they really seemed to be very honest about their relationships. Because I'm kinda obsessed with all things "Bachelor" I noticed something recently that may be a big deal or it may not be. Once you mentioned Lauren's ex fiancé yesterday I noticed that Sydney and Chris Crane both follow each other on social media? Do you think there is something going on there? Just curious.
Comment: I had no idea they followed each other but after I received your email, I asked her. Sydney and Chris attended the same high school in Ohio together and they've known each other since then. I believe Sydney is a year older or year younger. Can't remember what she said. So yeah, they've known each other since high school, so I'm assuming that's why they follow each other.
_____________________________________
Hi Steve, I mostly just follow The Bachelor franchise through your recaps but this new revelation might make me actually watch the finale and AFTFR. Any chance Becca gets back with the guy who flew out to propose to her before Arie did? or do you think new Bachelorette is a better chance. Thanks!
Comment: If I were her, I wouldn't look back. Take the "Bachelorette" gig. You'll have more support and more positive response to the announcement than any previous person in show history.
_____________________________________
Leave it up to Arie to not be able to pick just one woman! I'm sure Becca doesn't see it now, but Arie breaking up with her is probably one of the best things to ever happen to her. I feel she comes across as really like able on screen and hope she is the next bachelorette! I imagine Jef is gonna get a good laugh out of this ending! My question is do you think ABC will be mad at Arie for this ending or just so happy that it will draw the ratings?
Comment: They are pigs in slop right now over what Arie did. They know how much tabloid and media coverage this will get as we get closer to the finale.
_____________________________________
Hi Steve,
Thanks for the juiciest Bachelor gossip ever! I'd say it was a bad week for Minnesota, but unlike the Vikings, our Minnesota girl Becca is the winner here. Even if she's not the Bachelorette, she's dodged the Arie bullet, which in the long run is even better than scoring the winning touchdown at the buzzer. Skol Becca! "Skol! Skol! Skol! Skol!
Question: how do you think they'll do the finale and ATFR? Will they do the complete finale per usual, with Becca getting the joyful proposal in the final minutes, and then show the change of heart footage during ATFR? Or will they mix that up this time, since it sounds like they have a lot of footage of the breakup and the new relationship with Lauren? I would think the former. We see how everything played out in Peru then come live to the ATFR and see everything that happened post-filming.
Do you think they'll scramble to re-edit the remaining shows to help build the storyline? I mean, no one's going to give a crap about Krystal and Jail Bait Bekah now. It's impossible to know since if they did scramble and re-edit, since we never saw what they originally had planned to air, how would we know what we're watching is a re-edit?
Do you think Arie is going to take the trophy from Juan Pablo as Most Hated Bachelor Ever?
Comment: Yes.
_____________________________________
Not so much a question as a statement, I know in other seasons you said it was the Jordan and JoJo show, Lauren B. and Ben show, etc. and you've had contestants from those seasons on your podcast essentially confirm that they knew the lead was going to choose them all along.
I already can't wait until you talk to some girls from this season to hear if they had vibes either way about Lauren or Becca. Yeah, that'll be interesting to hear.
Also, you had a reader emails question last week where someone asked something about contestants getting roses taken away. You took it as them asking if anyone had ever had the first impression rose taken away, but I think they meant if a girl got a group date rose or a one on one rose, and then later at the rose ceremony it was taken away. I'm curious if that ever has happened?
Hmmmm, not that I remember, but there have been so many dates and so many roses, it may have slipped my mind.
Love the site and the spoilers. I will be watching religiously because of this latest bomb drop.
PS – Not to get technical, but I've been rewatching Ben's season and Olivia said on your podcast she didn't drink at all, but I saw her with a glass of champagne in her hand on more than one occasion when watching.
Comment: Maybe she had the glass but didn't drink it. I know others in the past have done that. Not sure about her though.
_____________________________________
Hi Reality Steve,
I just had a few thoughts and questions about your spoilers for the end of aries season. I'm not surprised at all that he picked someone then switched is decision the way he has acted all the way thru his season so far and how he acted off the show. Do you think he would have been a better contestant on bachelor in paradise rather than as the bachelor? Yes.
My other question is about lauren. I feel bad for Becca as shes the one who really got the bad hand in all this but i also feel bad for Lauren because it's going to make her look bad and lacking self respect. This guy just dumped you and proposed to someone else and was supposedly happy with them and now suddenly he made the wrong decision and wants you back and you just take him back no questions asked. She should at least make him work for it a little bit since he humiliated her by dumping her on national tv just just like he has now doing to Becca. My question for you about lauren though is do you think the other girls from these season are going to support Lauren or Becca when this all goes down. I also have one final question. I know you said that all of this was pre taped and was going to be shown during the after the final rose. But do you think that the powers that be are going to try to get Arie to propose to Lauren at after the final rose in order to at least get a sort of happy ending out of this.
Thanks for Answering!
Comment: We don't know yet exactly what Arie said in Virginia to Lauren and her parents, but yeah, it was still pretty quick to take him back. Lets see exactly what she says at the ATFR.
This show is always up for proposals, so they certainly wouldn't be against it. But in this case, with their story, if he does, it'd be idiotic. Yes, I get that he'll have probably spent more time with Lauren than Becca by the time the finale rolls around. But I don't care if he spends every day with her for the next 5 weeks, he's not ready to propose to someone else 3 ½ months after proposing to Becca. Moronic.
_____________________________________
Hi Steve,
Have to start by saying how bad I feel for Becca. We all know these engagements almost never last but for this to be done to her the way it is – that's just humiliating! I agree that everyone will rally behind her. I'm already on the bandwagon for her becoming Bachelorette.
My first question is, do you think they will change any of the editing? Will they add in more "confusion" and "being in love with two women" to sell how this ends now? I don't know what the editing schedule is like but you'd think this would alter the overall narrative. This seems to be the most popular question after yesterday's post. I don't know. And we'll never know.
Second question/thought, we know Arie went on this show just to further his following, get his name out there etc. Given that we know he didn't have the purest of intentions going on the show, I am surprised that he'd pull a Mesnick. He HAS to know how this would make him look. Do you think there's any way this switch is producer manipulated/influenced? He knew he wasn't going on for love and will do anything to get this name out there with father reach (and as you alluded to, this will definitely rake in the ratings). Or, part of me wonders if he is delusional and thinks Lauren B is "the best" for him because why else throw your reputation in the gutter (trust me – I'm not a crazy Arie fan, just speculating). Here's the second most popular question today. Again, only those involved would know the true answer to that question and they'd never admit it publicly.
Third, do you know how any of the other girls this season feel about this? Wondering if Lauren B and/or Becca were well liked with the other girls because you'd think this would cause a divide & additional drama. I think Becca was very well liked in the house, more so than Lauren. Not saying that Lauren didn't have friends in the house because she did, but I think people took to Becca more if you're asking between those two.
A bit unrelated, any word on Rachel and Bryan (I know someone else recently asked)? They've been pretty MIA on social media which in this world, we know exactly what that means ha!
Comment: She just gave an interview recently (on page 1) where it seems like they're fine to me. She talked about wedding locations, decorations, etc.
_____________________________________
Hi Steve,
I have a quick question. You never mentioned much about the group date this week. Do you know who gets the group date rose? Is a rose not handed out on the date?
Thanks!
Comment: I don't know the details of next week's group date other than it's where Krystal melts down. Here is the group date part of the episode description on the ABC press release:
"…The bachelorettes divide up into "The Spare Roses" and "The Pinups," facing off for a day of competitive bowling. The winning team will go to a private after-party with Arie. However, the Bachelor has a surprise in store for the women. One unhappy bachelorette lashes out at the Bachelor. How will Arie react to her temper tantrum? Kendall helps him forget the blowup, but the fun comes to a screeching halt when a party crasher shows up unexpectedly. With all the loud drama, who will get the group date rose?…" I guess now we know why Krystal and Kendall are on the 2-on-1 the following week.
_____________________________________
Dear Steve,
Thanks for giving us the 411 on the crazy stuff that is going on this season with the Arie/Becca/Lauren situation. I have a few questions.
1. I know that we have a long time until ATFR airs, but since the subject being discussed will be very intense, do you think that they will withdraw from having a live audience at the taping like they did for Jason's ATFR? No. I'd say there will be an audience there.
2. Rachel was saying this weekend at the Wedspire event that there are no offers on the table for a televised wedding, have you heard anything to the contrary? No.
3. I know that you also said this morning that Becca is a very strong contender for bachelorette now. I have to agree with you 100%. Do you think that they would announce her as the bachelorette at ATFR even though it is airing a little earlier than it usually does? It's possible.
4. Are the two couples from Winter Games, Lesley and Dean, and Ashley and Kevin still together? Lesley and Dean definitely are. Ashley and Kevin, to me, is coming off as more of a showmance. Or one is way more into the other one. Take a wild guess who that'd be.
5. Do you know if Arie and Lauren have been secretly meeting for time together since the van was seen outside Lauren's parents house? I believe they're together as we speak.
6. What do you think of US Weekly's story that bachelor producers want a mass wedding with all the couples who are engaged on the bachelorette?
Comment: I don't see it. Why would any of these people want to share their wedding day with other couples?
_____________________________________
Wow. I have been checking your site compulsively and what an interesting season this turned out to be! You made some very good points and it was a fantastic, lengthy, informative post. (I didnt even think about Jason & Molly having to relive this.) Anyway, this is a random question, but what is the Nick thing you keep referencing? I have forgotten!
Thanks in advance & good work!!
Comment: I had video footage of Nick on the way home from his season ending filming of Andi's season on the phone talking to, I believe, a family member telling them all what happened.
_____________________________________
Wow! This Arie, Lauren and Becca situation has blown my mind! I feel so bad for both women because of the hate the Lauren will get for not really doing anything wrong and the heartbreak that Becca is going through! Everyone is obviously going to feel horrible for Becca come finale time. A lot of people have been posting on Becca's page to be the bachelorette. If I were Becca I don't think I would want to put myself out there again after all of this especially so soon after a break up! Since Lauren is out of the running is it Tia VS Becca for next bachelorette? If Becca doesn't want to do it, it seems like Tia is the only option now. What are your thoughts on this now that we have a shift in potential bachelorette candidates?!
Thanks for all the spoilers Steve, have a great day!
Comment: I agree. I just really think Becca would do it.
_____________________________________
I saw Whitney's comment under this Instagram post and though you'd appreciate it. Still on the fence about this season but it's all just guilty pleasure for me now anyways lol. And I LOVE your spoilers!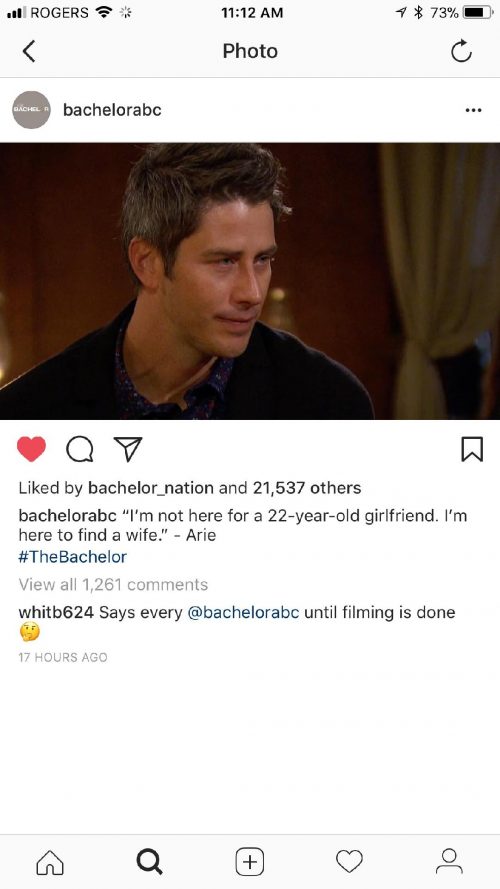 Comment: Savage.
_____________________________________
Hey Reality Steve ,
I'm going to be honest and say I'm a little embarrassed writing this email considering I doubt I am your usual emailer (21 year old male) but my sisters have gotten me hooked on the bachelor since Rachel's season, this year we take shots and laugh about Aries poor conversation skills , but I really enjoy watching with the spoilers it's a cool backstage pass to what's going on. I've got two questions
1.) My sisters don't watch with spoilers and I've got a good amount of money bet against them that Arie gets engaged to Becca at the end , you think I could double my winnings with the info about Lauren B ?? Hmmmmm…don't get greedy. Take the winnings you already have. Saying you think he'll dump Becca and choose Lauren might be a little too obvious.
2.) Also I'm curious about how production is feelings towards Arie , I know you said this is a rarity on the show and being that I'm a new fan I don't know how much they manipulate things but I'm guessing it will be difficult to flip public opinion on Arie after this quick failed engagement ?
Thanks for the spoilers
Comment: I think all you need to do is read the Twitter reaction to my post today and realize he's got about 95% of the audience thinking he's a giant dbag.
_____________________________________
I'm pretty sure I had more questions about the episode but the only thing I can think of is your column yesterday and what happened. Wow. I'm not shocked that Arie left his fiancee for a young blonde, I'm just shocked that he did it 4 episodes into his season. Like seriously though, there is a shortage of people who liked Arie in the first place, and now, there is going to be even less. Okay but I do have some questions.
1) When you first heard about the Becca-Arie breakup, did you know if Lauren was the cause of it, or was it something else? And did you think that after they broke up that he would come back to Lauren? First news I ever heard about trouble in paradise was hearing he called Lauren the night of the premiere. So it was his doing.
2) You said that he was never sure with Becca. Do you know what led him to choose her instead of Lauren then? I didn't say that as fact. I said based on what I was hearing, and knowing that he told Lauren after he dumped her and was about to send her away that he loved her, it certainly didn't seem like he was 100% all in on Becca at that point.
3) Do you think that Arie might propose to Lauren on AFTR? It's be a horrible decision if he did.
4) I wasn't involved in Bachelor Nation back when Jason's ATFR aired, but did Molly get hate? I know that Lauren probably will get hate or at least criticism. Yes. They both did. People accused Molly of knowing the whole time and acting on stage. She has denied that ever since that day and I believe her to be honest about that.
5) I think that since this breakup happened 2 months before AFTR, then Becca could possibly be ready to assume the position of Bachelorette, since Mellisa was broken up with literally a few days before filming would have to start. Correct. Becca will have close to two months from getting broken up with til filming starts on "Bachelorette."
6) I know that you really hated Arie before his season started and before talking to Sydney. I'm sure nothing surprised you about what he has done to both Sydney and Becca. Do you think that you hate him even more after hearing how he treated both of these girls? I don't hate Arie. Never met or talked to the guy. But I know a lot of things about him and my opinion isn't very high. So lets make that clear.
7) Before I totally campaign for Becca to be The Bachelorette, have you still heard only good things about her? Yes.
8) I see that Becca was friends with many girls in the house : Bekah M, Ashley, Caroline, Tia, etc, but Lauren B doesn't seem to be one of them. Was there a little bit of a feud between the two that you know of? Not a feud. I just think Becca connected more with others that Lauren. But they weren't enemies or anything like that.
9) Was Lauren rejected at the "altar"? Yes.
Thanks for spoiling that ending. March 14th is going to be the craziest day EVER with that double whammy with not only Becca being proposed to by her ex and Arie, but then he dumps Becca for Lauren! Truly the most dramatic season finale ever. You mean March 5th. But thank you for reminding me of the March 14th date. That's when I leave for Vegas for March Madness weekend. I'm giddy.
P.S, I saw in a recent column that there is a fellow young fan who is 13! I recently turned 15 but I think that that is really cool. I check this column all the time during class, even though I probably shouldn't, and finally there is someone who can relate. Congrats Steve! Your demographic is growing.
Comment: Don't drop out school, stay off drugs, and listen to your parents. There. That's my life lesson to give you.