What you've been waiting for, I know. So many things I've heard about this season of "Bachelor in Paradise," but I wanted to get you guys the ending first. In terms of the episode-by-episode stuff, I've heard so many people and the dates they went on, and who went home after this happened, but it's hard to piece right now which episodes they happened in. We've still got three weeks til the August 7th premiere, so let me work on that. In the meantime, I have your ending and who the final couples were so we'll do that first.
Yesterday, the first promo for the season was released. Here are some of the short screen shots you can take from it:
Jordan and Annaliese… pic.twitter.com/KoTJ9Qw7SY

— RealitySteve (@RealitySteve) July 16, 2018
Kevin and Astrid… pic.twitter.com/YdZ9mcJ6p8

— RealitySteve (@RealitySteve) July 16, 2018
Nick Spetsas and Chelsea… pic.twitter.com/r7VfmGqtsK

— RealitySteve (@RealitySteve) July 16, 2018
Eric and Nysha… pic.twitter.com/dw6XEau1z1

— RealitySteve (@RealitySteve) July 16, 2018
Knowing what I know about this season, and after watching that clip, it's pretty clear to me that every clip in that video was literally from the first two days of filming. There's nothing in there that's from later in the season, so just know that.
Now lets get to cast members. People.com released the original cast members three weeks ago. Then the day after that, I gave you more contestants that would be on the show:
Colton Underwood (Becca's season)
Chris Randone (Becca)
Connor Obrochta (Becca)
Leo Dottavio (Becca)
Kamil Nicalek (Becca)
Benoit Beauséjour-Savard (Winter Games)
Caroline Lunny (Arie's season)
Jacqueline Trumbull (Arie)
Jenna Cooper (Arie)
Jubilee Sharpe (Ben's season)
Shushanna Mkrtychyan (Ben)
Now I can give you even more contestants that you will see this season:
Wills Reid (Becca's season – was made official last week by People.com)
Christen Whitney (Scallops. Fresh off her 2nd place finish on the "Proposal," she went down to Mexico)
Olivia Goethals (Arie's season)
Cassandra Ferguson (Juan Pablo's season)
Robby Hayes (Thirst extraordinare from JoJo's season and BIP 4)
Diggy Moreland (Rachel's season)
Jordan Mauger (Winter Games, Bachelor New Zealand)
Ok, obviously plenty of sh** happened before this final episode, but let me just fill you in on that final rose ceremony and what happened after that. Going into the final rose ceremony, here were the people left on the show:
Men:
Robby (entered in the last episode)
Diggy (entered in the last episode)
Jordan NZ (entered in the last episode)
Eric
John
Kamil
Chris
Kevin
Jordan Model
Joe
Women:
Kendall
Astrid
Cassandra
Shushanna
Krystal
Annaliese
Olivia
Jenna
Eric left at the beginning of the episode because he didn't want to be there anymore and felt he had no connections.
At the cocktail party before the final rose ceremony, Kendall and Joe broke up. They had been with each other a majority of the show and ended it. However, if you paid close attention to social media this weekend, Kendall was in Chicago visiting Joe. You see those pictures he took with David and John? Yeah, that was Kendall who was taking the pictures. Trust me, she was there. People saw them together certainly acting like a couple. However, Kendall five days earlier was in Atlanta at a watch party that fans attended, and she was pretty much flirting it up with Alex Bordy (Rachel's season) and Michael Garofola. Needless to say, Kendall is enjoying being single in Bachelor Nation. Good on her I guess. So even though she was with Joe this past weekend in Chicago, they broke up at the cocktail party before the final rose ceremony.
At the final rose ceremony, girls gave out roses to the guys. They were as follows:
Astrid gave hers to Kevin
Olivia to John
Cassandra to Jordan NZ
Annaliese to Kamil
Krystal to Chris
Jenna to Jordan
Shushanna to Robby
Diggy was the only one sent home at this rose ceremony.
Then at this point, Chris Harrison comes in and tells the couples like he did last year, they have three options:
1) They can leave separately
2) They can leave as friends/couple
3) They can stay in the fantasy suite
Here's what the final couples decided to do:
Kevin & Astrid broke up (However, I showed you the pictures last week of them together post-show, so, expect them to say they're together when the reunion show rolls around)
John & Olivia choose the overnight date
Kamil & Annaliese choose the overnight date
Chris & Krystal choose the overnight date
Jordan Model & Jenna choose the overnight date
Robby & Shushanna leave as friends
Jordan NZ & Cassandra leave as friends
We all know that Ashley & Jared got engaged down in Mexico. Since I don't know how these episodes are going to be broken down, it's hard to pinpoint what episode that happens in, but it looks like it's Episode 5. And although early reports I heard I told you I wasn't hearing there were any other engagements, that's why I wait til I'm able to gather all the info I can. That ended up not being accurate. There definitely was another engagement in Paradise. You ready for this one?
Jordan Kimball got engaged to Jenna Cooper. For those maybe forgetting what Jenna looked like from Arie's season, it's this girl: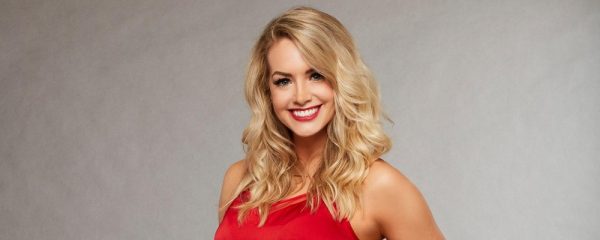 Have a field day with that one. But yeah, they're engaged. Now, there's another couple that I'm hearing about that I've heard might be engaged as well, and that's Chris Randone and Krystal Nielson. Put it this way, if they DIDN'T get engaged in Paradise, there's a good chance they will at the reunion show from everything I'm hearing. UPDATE: Chris & Krystal did get engaged in Paradise. So that makes 3 engagements total this season.
In addition, when Kendall was in Chicago visiting Joe this weekend, John also went out there to see Olivia. Wasn't hard to follow that on their IG accounts since they were both posting from the Windy City Smokeout. So I guess you could say John and Olivia are still carrying on from Paradise. I have no idea if Kamil and Annaliese are still a thing, and honestly, I don't even care to. Robby & Shushanna are definitely not together, Jordan NZ and Cassandra aren't together, and Kevin and Astrid pretty much are.
There's so much earlier stuff that I've heard that I need to piece all together, but that's what happened on the last episode. As I reported when I went on Juliet Litman's podcast two weeks ago then mentioned the next day, Colton and Tia broke it off earlier in the season. I guess Colton didn't see themselves lasting in the real world so they broke up and both went home.
And finally, I'm sure you saw Bekah post yesterday that she never went to Paradise and it's because she's had a boyfriend since February. Basically exactly what I told you two weeks ago. They wanted her to do it, she was all set to do it, then decided not to because, well you know, she'd been seeing a guy for 4 months at that point and I'm guessing it wouldn't have gone over too well. So there's your Bekah update that you already knew.
Whew. A lot to post and that was only the final episode. If I don't get every date and detail of who went home when by the time the show rolls around, I'll just post what I know of who went on dates with who and roughly tell you when I think they went home. And there's a BIG fight this season between two of the guys that is some pretty major drama and makes one guy look really bad apparently. I'll update you on that too. But outside of knowing 100% if Chris and Krystal are engaged, your spoilers for the last episode are definitely accurate. On to last night's episode…