One thing that's been brought up in recent weeks has been Katie's social media behavior and all the things she tweets and/or posts on her stories. Being the first lead to be as active on social media as she's been, everything she does gets dissected to the fullest extent. What does this mean? What does that mean? Clearly she can't be happy if she's posting that? We've heard it all. I'm here to tell you that no matter what Katie has posted, whether it was meant as some sort of misdirection or not, nothing has changed. Katie and Blake are still engaged, they're happy, and you will see that come next week when the finale airs. Does it mean they will 100% get married and stay together until one of them dies? No. But we know "Bachelorette" pairings have had a much better success rate than the "Bachelor" and it's not even close. And even the ones that do break up usually at least last a while. The relationship really started after filming ended, and then after next Monday, they can actually be a normal couple in the real world. All we can do is an audience is sit back and watch. I have no idea what their long term future is. But for those thinking Katie's posts all mean something or she's sending people a message she's single or whatever – she's not. They're happy and engaged.
Ratings are in
from Monday night, and this season has been consistent if nothing else. 3.4 million viewers and a .9 rating. Still the most watched network TV show Monday night by 3 x outside of the Olympics, which of course drew more eyeballs. Never less than 3.1 million viewers and never more than 3.7 million viewers for all 9 episodes this season. Not great numbers compared to past seasons. In fact, it's the worst. Never been a lower rated season. Yet, it's the highest rated reality or scripted show on network television on Monday nights, basically doubling and sometimes tripling the competitions ratings. So both statements are true. If you're going to speak negatively of the show by providing their ratings, you aren't being objective if you're leaving out that they're still the most watched show on Monday nights.
Obviously the Greg and Katie fight dominated the conversation for the last 24 hours or so. Even the men on her season decided to share their thoughts, and here are two men that watched the same exact episode we did and also had two completely different takes. These are courtesy of Connor B and John Hersey.
from Monday night and this show has been consistent if nothing else. Drew 3.4 million and a .9 rating, which is on par for basically the whole season.

relationships are nuanced. breakups are nuanced. sometimes there's not a good guy or a bad guy. sometimes cameras and tweets can't accurately capture the complexity of real life. Kindness is free, love is complicated #TheBacheloretteABC https://t.co/vpbmdjuuk4

— connor b (@sad_oat) August 3, 2021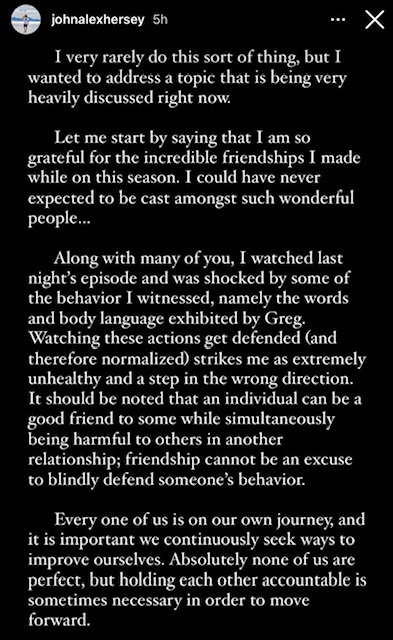 Now, here's something to keep in mind. Connor is boys with Greg. And John has been seen hanging out with Katie and her group of friends post show. So clearly both of those takes aren't the most objective. Connor wants to stick by his boy. And I feel confident in saying that everything John said in that IG he has heard either A) directly from Katie herself B) directly from Katie's friends who may have heard it from Katie. John isn't fooling anyone here. He's not some innocent bystander just throwing out his take on the situation. We've seen the guy on more than one occasion hanging out with Katie and her friends. So to come with a statement like this is pretty calculating. He's basically being a mouthpiece for Katie's camp here. And Connor not acknowledging anything negative that Greg did? That's just not being objective. Both are defending their friends, so, take what they said with a grain of salt. There is zero objectivity happening with either of these takes.
Later today I'll be giving you some exclusive clips from episodes 4 & 5 of FBoy Island on my IG stories, as the next 3 episodes will be released tomorrow on HBO Max (the final 4 episodes come out next Thursday). And yes, there's a reason why no clips from episode 6 because, well, it might give some things away that happen in 4 & 5. If you liked the first 3 episodes, you'll love 4-6. Twists at the end of each one that you won't see coming that shake things up. Look for new clips later today on my IG stories.
"Reader Emails" begins on Page 2…