Well, not a whole hell of a lot of emails to get to this week. Maybe because there was no show last week people just forgot to send them in. But as you know, the schedule is changed up now that we're back to a new season of the "Bachelorette" on Tuesdays. "Reader Emails" will be on Tuesdays (so get them in now for next week's column), recaps on Wednesdays, and podcasts on Thursdays. Anything else that happens to break will be on my Twitter feed, my IG feed, my IG stories, and saved to my Highlights on IG under "Clytns Spoilers" (Highlights doesn't give you enough spaces to type out "Clayton's Spoilers. Thanks a lot). Anyway, tons of stuff on Clayton's season went up yesterday on all those accounts, which I will re-post today for those that don't follow. I said it when the pandemic started and you're well aware it played out that way – seasons filmed in a bubble (Clare/Tayshia, Matt, & Katie) was much harder to get spoilers on. You saw that in that while I had the endings, there were very little details and episode-by-episode stuff. Michelle's had a little more get out once they went to Minnesota and Mexico, but not a ton. I don't think it's coincidental that their first season back to a regular schedule and traveling, I now have basically all your info to Clayton's season up through this point in filming. You'll be getting all that in the coming days/weeks. Plenty of things to get to first today before we dive into yesterday's info dump on Clayton's season.
Some relationship news in Bachelor Nation happened over the weekend when Tia revealed she has a new boyfriend:
A couple weeks ago in my Oct. 6th post, I wrote this regarding relationships between someone in Bachelor Nation dating someone outside of Bachelor Nation and how I was going to handle them: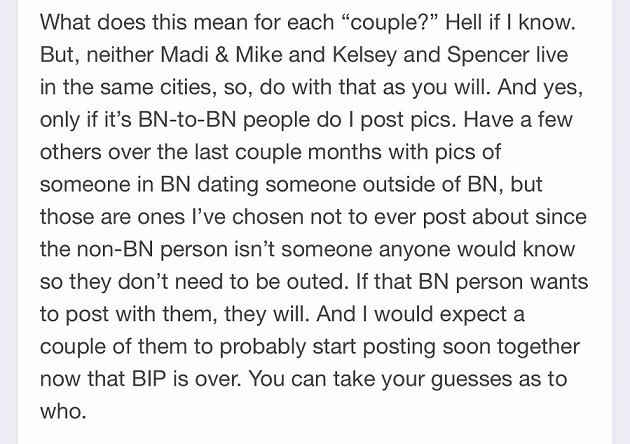 Tia was the person I was referring to in that last sentence. I figured it was only a matter of time before she went public with Taylor. I bring this up because the Tia stuff was brought to my attention back in July, just a few weeks after she'd returned from Paradise filming. But I wanted to stick to my word that unless it's BN and BN people dating, it's just not something I'm going to report on. This was the text exchange 3 months ago I had with a friend in Nashville once I'd been alerted about Tia and Taylor: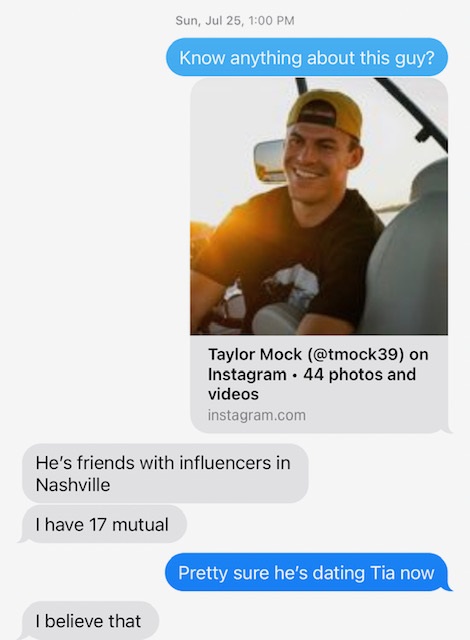 I know that people need to have all the tea the second it happens, or the second I hear about it, but there are some things I'm just not doing anymore. "All Reality Steve does is ruin these peoples lives and butt in when he shouldn't." Been 6 months since that happened. But then again, I'm pretty sure most of these contestants don't want me to change or care if I do. It's been interesting to say the least.
Same thing with Clare last week. An IG account posted a video and pictures of her with some dude at Game 5 of the Giants/Dodgers last Thursday night. That person sent me the same exact pictures of them in the store pre-game minutes after they took them. But since he was not someone in Bachelor Nation, it just wasn't something I was going to post. So I guess the person who sent it to me wanted it out there bad enough they gave it someone else as well. So yeah, these are just some things you're not gonna get from me going forward. BN-on-BN dating, that I will do. But these randoms that no one knows, I don't see the point of outing them. If the BN person wants to publicly share that person, they will. Not my business. I know of a couple more out there happening, so I wouldn't be surprised if those get out there soon.
So I'm still finding the Jesse Palmer game of "will he or won't he be on ESPN this Saturday" fascinating. Two weeks ago he wasn't because rose ceremony #3 in LA fell on a Friday night and there just wasn't any way he could get to Bristol, CT in time to do a full day of studio work. However, this past Saturday was interesting because, as we know, filming has now moved to Toronto. Rose ceremony #4 was in Houston on Thursday, and with filming being in Toronto, Bristol, CT is a hell of a lot closer, so Jesse went from Houston to Bristol, was in studio Saturday, then I'm sure now is in Toronto with the show for the rose ceremony tomorrow night. However after this rose ceremony, my guess is he won't be on ESPN for at least the next couple weeks because the show will be out of the country. He's not going to fly back and forth from Austria & Croatia to CT. My guess is he'll be off ESPN from now until filming ends. UNLESS, he does the rose ceremony in Toronto tomorrow night, stays in the states and does ESPN this Saturday, then flies a little later into Austria. Because he technically doesn't need to be there at the start of the trip. He just has to be there for the rose ceremonies.
Info dump on Clayton's season on Page 2…