There is not much to recap today regarding last night's episode. I will give my thoughts tomorrow and then some along with your Reader Emails, so get those in today. Today is a story about 4 months in the making. Keep in mind, these used to be way more frequent. I have not posted one negative thing I've been told about a contestant in well over a year. You've heard me say it time and time again. I'm out of that business. I'm done being the middle man. The exception would be is if someone who came forward to tell me something about a contestant put their name behind it, showed me proof, and wanted a platform to share whatever it is they had. Today is one of those days. And it's more than one person who came forward. Not a whole hell of a lot of editorial here today. It's all here for you to judge as the info is basically cut and pasted from what they sent me. After some shoddy reporting in the past, you bet your ass I made sure of the legitimacy of this story. I'd say the detailed timeline of both women's interactions with Nate speak for themselves. The vetting is done in their timelines with photos and overlapping timelines. Pretty clear to me what was going on here.
Before we get to that, today's Daily Roundup podcast is now up. I talk a little about this story, a correction from yesterday's scheduling, breakups in Hollywood, the passing of Olivia Newton John, and the Dodgers are dominating. But that doesn't mean a whole hell of a lot now.
You can listen to today's podcast on a number of platforms, but you can also tune in by clicking the player below:

Subscribe: Apple Podcasts,RSS, Stitcher, Spotify
Music written by Jimmer Podrasky
(B'Jingo Songs/Machia Music/Bug Music BMI)
So the story began back on March 23, the day the men for this "Bachelorette" were released on the "Bachelorette" Facebook page. I got this DM on Twitter.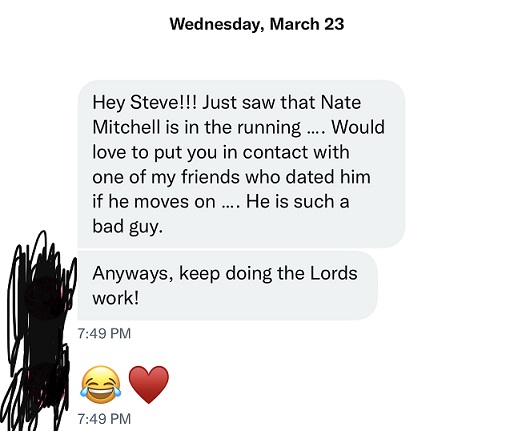 I didn't think much of it because I get stuff like this EVERY season about multiple contestants – including this one. This was about 1 of 15 negative emails I got about Rachel and Gabby's guys, but since it was pretty non-descript, I didn't think much of it. I messaged back and forth with this person, and they told me things that certainly didn't paint Nate in the best of lights, but the show was still filming and we didn't know yet if he'd even be relevant to the season. Then once the show started airing is when a girl named Kelsey Fankhauser (IG: @kelseyfank) posted on TikTok after episode 2 aired (Nate's first 1-on-1) with this post:
So even in that TikTok, she's basically making fun of herself. Her caption says "Shame on me." But her point was she had no idea a guy she was involved with for 1.5 years had a child. Even when I was being told this by her friend, I didn't believe it. When I saw the TikTok, I STILL didn't believe it. That made no sense. I get not wanting to introduce your child to someone new you're dating. Everyone has their own preferences when it comes to that. Some do it right away, some wait a few months, some wait longer. To each their own. No one is coming down on Nate for that. But to not even TELL someone you're dating you have a kid? That's just bizarre. So once Kelsey posted the TikTok, it being only :10 secs and had zero proof of anything other than her words, I STILL questioned the validity. Then I got in touch with Kelsey and asked for the full story. She told me it was true but I needed to see proof. I wasn't going to even just transcribe what she told me. I told her I needed a timeline of their relationship and needed proof.
What followed next was Kelsey sending me a Google drive of 38 photos and screenshots of her relationship with Nate, along with a timeline explaining everything. Are all 38 photos in here? No. But a lot of them are. So all I did was cut and paste exactly what Kelsey gave me. Here you go. It begins on Page 2…