Well today is certainly going to be interesting. I shared the story last Thursday on both the podcast and the column about a woman that Aaron is involved with now that he seemingly was seeing right before Paradise as well. Since that story posted, another woman reached out to me who not only told me about her involvement with Aaron pre-BIP filming, but also got in touch with the woman I spoke with last week, they essentially compared notes and realized that Aaron was playing both of them. Yet the girl from last week is still with him. As you know, I don't reveal stuff like this unless someone provides receipts. The woman I spoke on the phone with yesterday did. Her identity is being kept private because she wants to (as was the woman last week who had posted on her IG being with Aaron), however, to tell the story that she relayed to me yesterday, I had to give them both names for the sake of the story that aren't their real names. So that was touched on in today's podcast, but you'll see the receipts below. Aaron was caught and I think this is pretty shitty he did this to both of these women. This isn't just "Oh, he was dating someone pre-show." No, he was lying and manipulating two women pre-BIP filming – and then went down to the beach and did the same to Genevieve.
Today's Daily Roundup covers last night's crazy BIP episode, Gabby & Rachel's revisionist history, more on the Aaron story from last week, and TSwift tickets are out of this world.
You can listen to it on a number of platforms, but you can also tune in by clicking the player below:

Subscribe: Apple Podcasts,RSS, Stitcher, Spotify
Music written by Jimmer Podrasky
(B'Jingo Songs/Machia Music/Bug Music BMI)
So to catch everyone up on the Aaron story that didn't listen to last Thursday's podcast or read Thursday's column, this is cut and pasted from there:
As I mentioned in both podcasts today, it was brought to my attention a couple days ago that Aaron Clancy seems to have a new gf. Because this girl is not Bachelor Nation, I will not reveal her name, her IG, or show her face. But I was told they were definitely dating/seeing each other/hooking up, and based on some of her IG posts, seems like this is someone who's been around for a while. Her birthday was two days ago, and here were two pics she posted: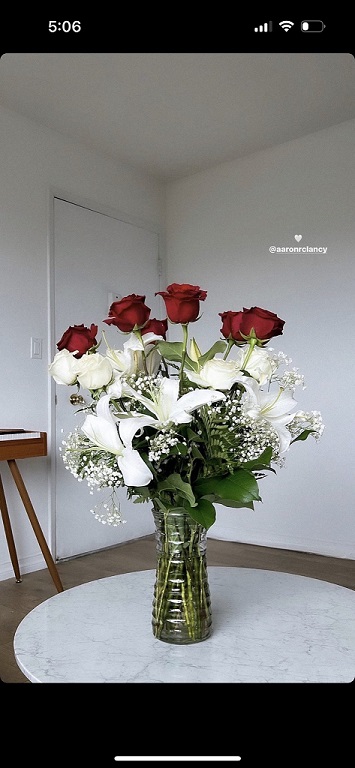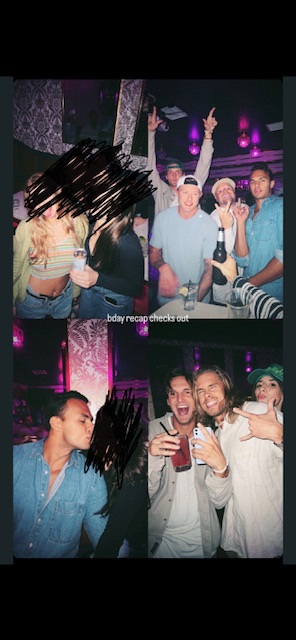 So I mean, I think at least she thinks she's in some sort of relationship with Aaron. I doubt you'd post that if you were trying to keep things private. So, this is 5 months since BIP filmed, what's the big deal? Well, there's this photo she posted on her highlights from 18 weeks ago, which if my math is correct, looks to be right after he got back from BIP filming. 18 weeks ago from now is around beginning of July, and BIP filmed basically all of June: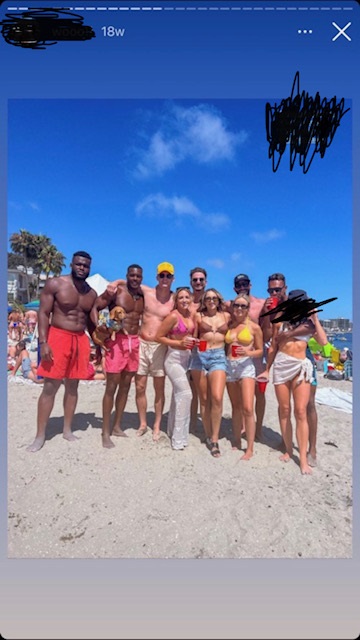 Then, last summer, looks like they clearly took a trip to Tulum, Mexico when she posted this picture of them together: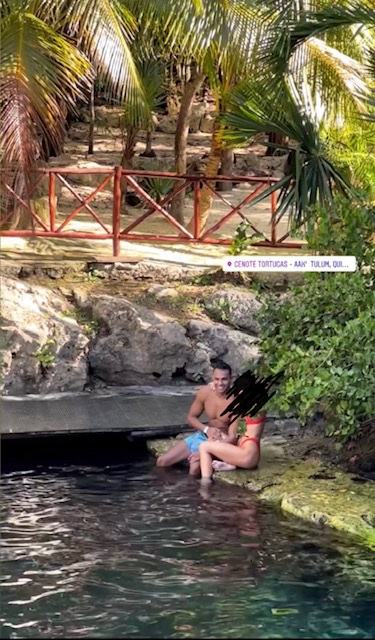 That pic was from 42 weeks ago, so it's from last summer. There's nothing that I've found from right before he left for BIP filming, but I'm just being realistic here. Aaron is no different than a lot of the guys in this franchise. Plenty of them go on the main show and BIP with women back home that are basically put on "hold," or they have in the back of their minds if things don't work out. And knowing that he was with her last summer, then right after filming, and is currently with her, I don't think it's far fetched that Aaron probably was talking/hooking up with her pre-BIP filming. How they defined their relationship is beyond me. And to me, my opinion is that I think it explains a lot of his behavior with Genevieve that we're seeing play out on the episodes now. It just seems like he was using Genevieve for roses, went down to BIP for fun, hang with James, gain some followers, be on TV, and just was never interested in being serious with Genevieve. Kind of explains hit hot and cold behavior with her. One minute he's telling her he's not just falling in love with her, but that he IS in love with her. Then a day later he's fighting with her again. It just screams to me he knew he had someone back home and was just doing whatever he could to stay on the beach as long as he could. Nothing wrong with having someone back home. Most of them do. But now just finding this out a couple days ago, and being able to track this "relationship" going back all the way to last summer, I don't think it's far fetched to think 2 + 2 = 4 here. But hey, maybe that's just me.
Well, after that story was posted, another woman reached out to me on Monday to share her relationship with Aaron pre-show. Since both of these women are non-Bachelor Nation, I will not be identifying either and will not be including any pics of their faces or IG handles to protect their anonymity. So lets call last weeks woman (the one he's currently with) "Amy" and today's woman "Beth." A & B. Simple enough. Those aren't their real names. If I didn't give them names though, it'd get too confusing.
So Beth reached out to me after my story ran last week, and I had a FaceTime conversation with her yesterday. She started seeing Aaron in Sept of last year, right when last season of Paradise was airing. They dated from Sept thru around November, when they broke it off. In January of this year, they rekindled and started dating again, this time more serious. He even helped raise her dog with her (which she provided pics of). And Beth tells me they were basically together all the time from January through May, a couple weeks before he left for Paradise. Well, that is when she wasn't out of town on a girls trip or traveling for fun. Because during those times, Aaron was still seeing Amy. The overlap is undeniable. And you'll see that it's undeniable, because once Aaron went off to film BIP in June, Beth had known Amy was in the picture, but was always assured by Aaron that Amy was just a friend and nothing was going on. Yet, he was telling Amy the same thing about Beth. Beth reached out to Amy in June because she felt she needed to know, and once they started sharing stories and timelines, they realized they were both being played by him. This is the conversation between Amy and Beth from June 23rd of this year that Beth screen shot and sent to me. Amy is in the gray on the left, and Beth is in the blue on the right.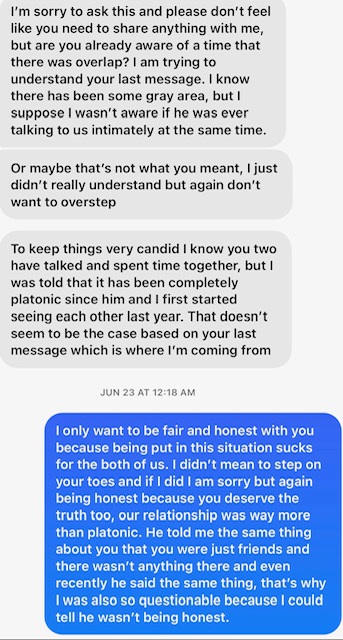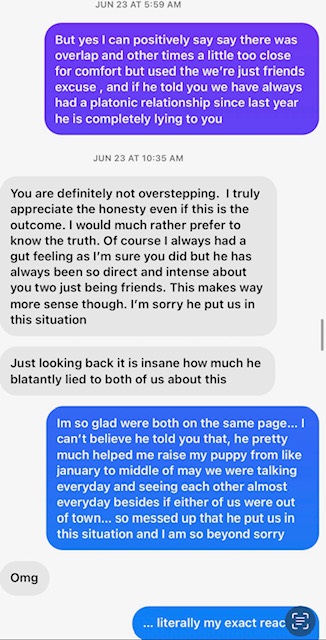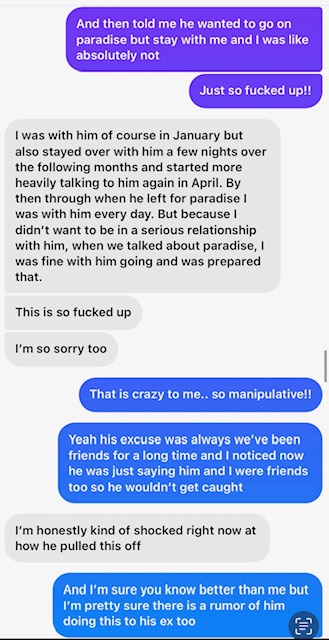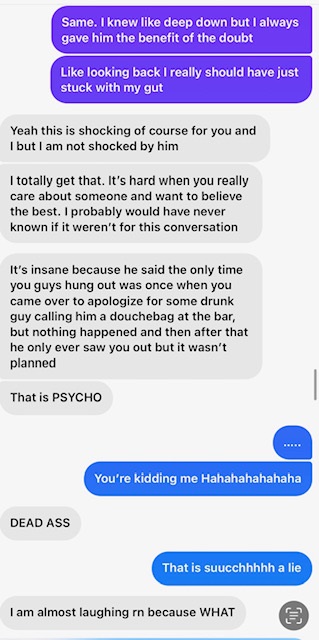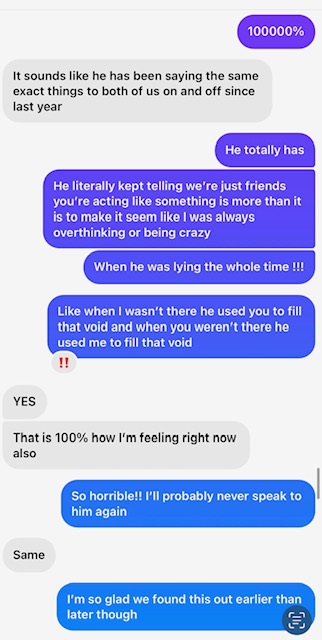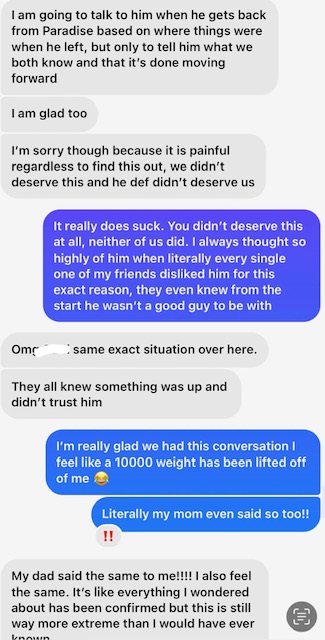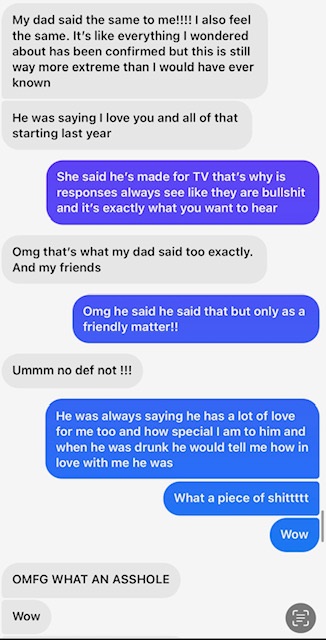 I know people love to throw around the "Well, there's three sides to every story: his side, her side, and the truth." But I'm sorry, not here. This is two women having a conversation about Aaron while he's off filming Paradise in June realizing that they were both played by him and he'd been caught. Now, as we know, while Amy seemed very upset and bothered by what Aaron did and she was gonna break it off with him once he got back from filming as she said in that exchange, clearly she didn't. Who knows what Aaron said to sweet talk her to get her to go from how bothered she was in that convo to giving him another chance, but hell, we saw him do this with Genevieve. This is some serious controlling, toxic behavior in my opinion. Not much else to say other than he's Amy's problem now, and unfortunately she's going to learn the hard way. She basically admits in that conversation she always had suspicions about him, as did her dad and friends, and she still chose to get back with him after knowing he kept a sexual relationship with Beth going behind her back? Not sure why and I'm sure she's got her reasons but, ok. Good luck.
Just the extreme lying on Aaron's part, I assume, just so he could have his cake and eat it too is really disturbing and a really shitty thing to do to these two women behind their back. Who has the time to keep that many lies going? There's nothing wrong with being honest. And clearly Aaron had an issue with that and now he's been exposed. And seeing the conversation between Amy and Beth, along with speaking with Beth yesterday and watching his behavior and how he treats Genevieve, my opinion is Aaron needs help. He doesn't seem to realize how he comes across and how he treats women. But just based on his online persona and how he acts on TV, it doesn't seem like he even cares to admit any wrongdoing in any argument he has. It's unfortunate and you hope eventually he'll see how disrespectful he comes across, but at this point, it seems like a lost cause. Guys like Aaron see apologizing or acknowledging bad behavior as some sign on weakness. He's bro'ing out in San Diego with his boys and will just continue to go about things as if what he's doing on TV isn't highly toxic and should be addressed. Oh well. Only so much we can do.
"Reader Emails" begins on Page 2…