Summer Tour Stop #2 is in the books, and on to #3 next weekend in Chicago. Had a good time in San Francisco, and the Giants game on Saturday was especially made a lot of fun when the people in front of us were providing all game entertainment. Why, you ask? Because they were so hopped on up on drugs, they couldn't stay still and stop talking. Bless their little 23 year old hearts, but yeah, they were high. And one of them was a little higher than high. But all in all, a fun time, and I loved your garlic fries AT&T Park. You didn't disappoint. I'm sorry I couldn't arrange any sort of meet up this weekend. I was playing everything by ear, got caught up in doing some sight seeing and what not, and just never knew where I was gonna be at any point outside of the game on Saturday. Fun to meet Clare and her friend on Saturday to watch the game. Since I'm a tad more familiar with Chicago (even though I've only been there once), I will say that it might be a little easier to meet up in Chicago than it was in San Francisco. I don't know my full weekend plans yet, but I do know I'm going to the Cubs game, Sat. July 7th at 1:20 vs the Reds. I'm guessing the Cubs will have a little revenge on their mind considering that sad sack Reds team just swept them 4 straight this past weekend (although credit to the Reds, they have won 7 in a row – yet are still 13 games out of first place).
So I will be in the bleacher seats for Saturday the 7th's game against the Reds. Before the game, I'll be at Murphy's Bleachers bar at 11am for anyone that wants to join. If you do, let me know ahead of time so I can roughly get a head count of who to expect to be there. Obviously this won't be any sort of reservation or reserved table, but I just wanna know how many are interested in going. From there, just gonna go to the game and hang out in the bleachers and have fun cheering on the Cubs or whatever. From there, it's anyone's guess. Last time I was in town years ago, I must've hit 3 or 4 different bars after the game and the rest was history. I can't run like that anymore due to my old age, but hey, it can still be fun nonetheless. So anyone interested in either going to the game and/or meeting up at Murphy's Bleachers pre-game, email me at steve@realitysteve.com and let me know.
Get your "Reader Emails" and "Dr. Reality Steve" emails in this week. We're kinda low on both. By the way, the next installment of the "He Said, She Said" podcast with new co-host Ashley Spivey will be out next Tuesday. If you want to be a part of any future episodes, just email myself or Ashley. All you need is to have Skype and the ability to talk. That's pretty much it. And remember, this podcast will be free and part of the Reality Steve Podcast. So it'll come through on the same feed that you listen to Thursday's podcast on. Nothing changes, just adding a second show once a month with Ashley.
In case you missed this video that's been making the rounds the last few days, here is Garrett's wedding video from the girl he was married to for two months. Obviously there's a lot we don't know, and I get that people break up all the time, but when you watch something like this, then realize these two couldn't even last two months as a married couple, it's kinda bizarre:
Came across this video as well from comedian Tomas Delgado, who had his own "Bachelor" journey with Jacqueline Trumbull from Arie's season. This was filmed in between her time with Arie and before she went down to Paradise for a hot minute in case you were wondering:
Brady Toops from Kaitlyn's season (you know the one who started dating Britt after night 1) has a podcast up now called "The Unravel" and he interviewed Ben Higgins recently. You can listen to that interview here:
Lastly, I'm sure you've all seen the story by now of Michael Friday, a contestant on the "Proposal" that was supposed to air last night, but after a female accused him of facilitating her sexual assault, it was pulled and they decided to air one of the other episodes they had in the can. Michael responded to the accusations with one of the more bizarre statements I've ever seen: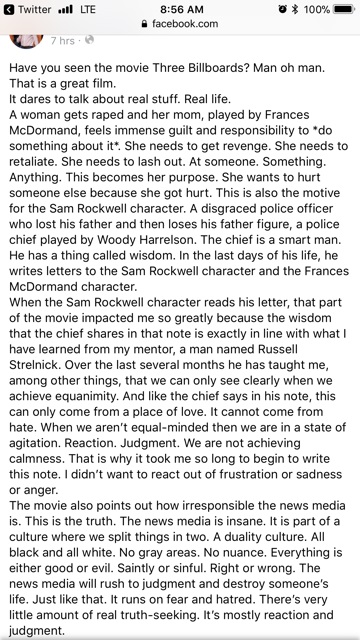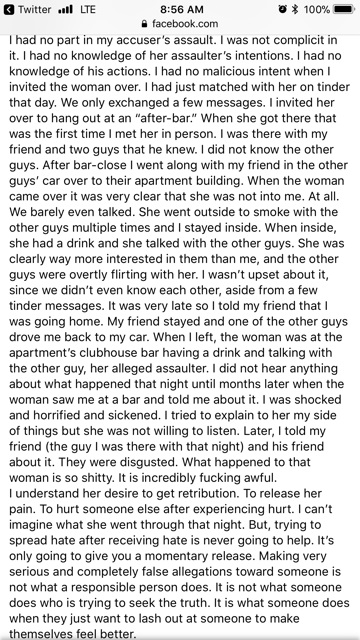 I'm not sure who coached him before he released that, but they should be fired. Is he a movie critic or is he responding to serious allegations against him? Is there a reason why we got a 4 paragraph summary of "3 Billboards" before he even got to the meat of the discussion? What an awful denial. If some PR firm thought that was a good idea, they should be fired. He denies it, so there's his side. But if you go to the girl's accustations on Facebook, apparently at least four more women came forward after she told her story and shared similar dealings they've had with Michael. From what I'm hearing, she's lawyering up now, so this doesn't look good for him. Whatever happens, he should know that was one of the worst denials ever written in the history of sexual assault denials and he should be embarrassed he put that to print. Holy Jesus.
Since Michael's episode didn't air (he was in the first round of eliminations) and doesn't look like it will ever air, that was one of the episodes I had spoilers for. Amber was the main girl, the two guys she narrowed it down to were Shad and Johnny, she chose Johnny, he proposed and she said yes. The end.
Recap begins on Page 2…