Oooooohhhhh, another crazy day in Bachelor Nation with Golf Bag-Gate. We'll get to that momentarily. A few of you have mentioned the fact that my last few podcasts have been just myself and/or it's been a while since I've had a "Bachelor" contestant on. I've mentioned the reasons why that's the case, but assuming my next two guests don't postpone, the next two weeks podcast guests will be old school members of "Bachelor Nation," but two people who definitely figured prominently during their season. Yeah, most of you johnny-come-lately fans might not remember them, but they definitely were big deals back in the day. I don't wanna jinx anything, but I'm scheduled to record with them over the next two days. One will run tomorrow, the other will run next week. My schedule is going to be a little hectic next week, and I'll briefly fill you in why tomorrow. Not an ideal situation, but, life happens unfortunately. So look for that podcast tomorrow as it should be an interesting one. I'd really like to do "Bachelor" people for most of my podcasts, but the strangehold this franchise now puts on their contestants, and only approving them for "Bachelor" related podcasts is keeping my hands tied. There's nothing I can do.
Ratings are in and, as I suspected and told you last week, episode #2 dropped pretty significantly due to being up against the Clemson/LSU National Championship. Lets lets look at the last two "Bachelor" seasons first two episodes:
Colton:
Ep. 1 – 5.1 million viewers (1.5 rating) vs. Clemson/Bama
Ep. 2 – 5.6 million viwers (1.7 rating) vs no football
Peter:
Ep. 1 – 6.07 million viewers (1.9 rating) vs no football
Ep. 2 – 5.37 million viewers (1.6 rating) vs Clemson/LSU
So as you can see, when there's a major event on that's grabbing over 20 million eyeballs, it's almost impossible for your show not to drop. Every show across the board was down from their previous week premiere. And since the "Bachelor" always debuts on the first Monday in January, it will always be up against the National Championship and/or the semifinals. Like Arie's season's first TWO episodes had to compete against the semi's and the national championship. However, adding the two up from both seasons, Peter is a little ahead in overall viewership and rating. Next week I'm sure it'll be back around 6 million then climb every week from there unless they have a non-Monday show somewhere, which always draws lower numbers.
There wasn't anything sent to me yesterday more than a Tik Tok video from someone claiming that because Peter and Hannah Ann had pictures with seemingly the same golf bag, that they knew the ending of the show. No need to post the Tik Tok because it's utterly stupid. All they did was post the two pictures in question then make claims that means the season is spoiled: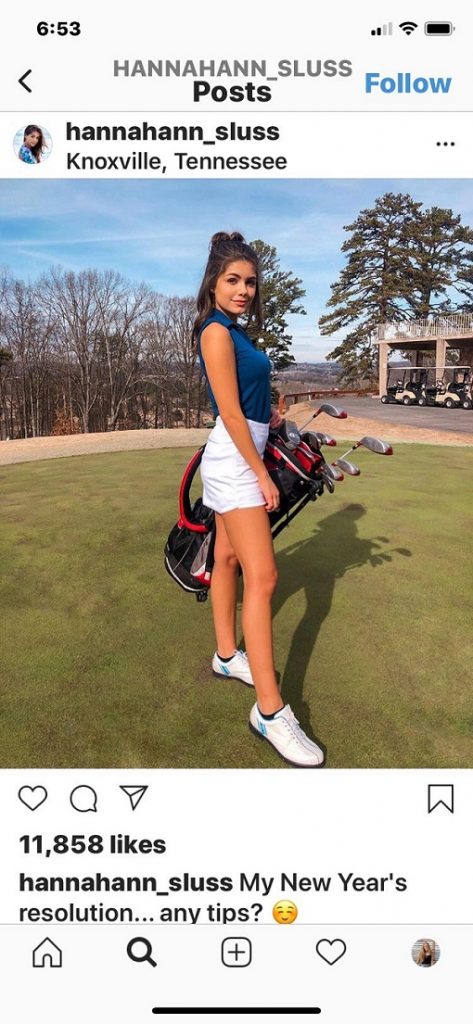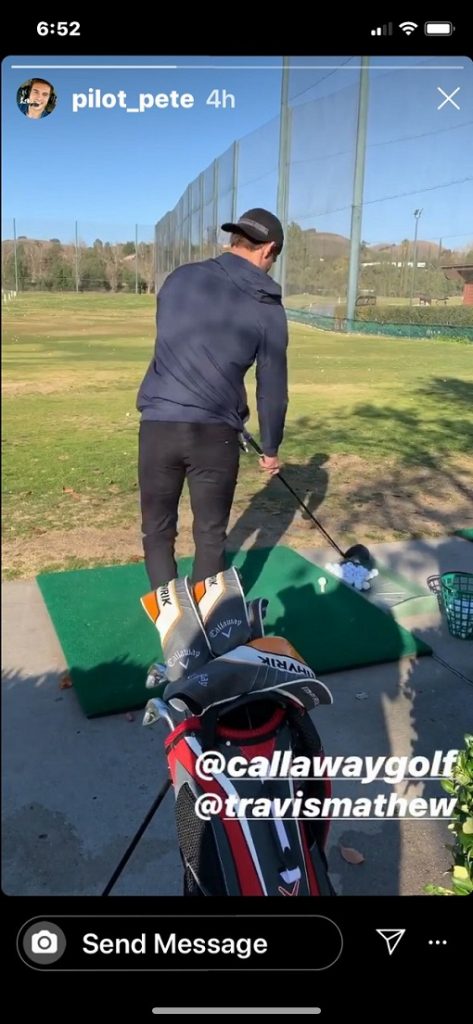 What this is is…nothing. Or something. There's nothing whatsoever in that picture that 100% definitely claims Peter is with Hannah Ann. When Arie and Becca post IG photos from the same backyard on a Happy Couple weekend, that's a spoiler. When Kaitlyn and Shawn accidentally snap a pic of them together in bed, that's a spoiler. When Nick is on a plane coming back from the final rose ceremony and talking about what happened, that's a spoiler. When Andi's (back in the day when Snapchat used to show "favorites" – the people you snapped with the most) top "favorite" on Snapchat was Josh, that's a spoiler. This is nothing. I'm telling you, for every "see they have the same golf bag, that means they're together" email I get sent, I've got something else completely opposite for you that could point to Peter being with Madison. And they both can't be right. So basically this info is just…a thing. Nothing concrete. Like, if you want a Peter and Hannah Ann ending, you can pretty much create a narrative based on any flimsy piece of evidence you see. Same for Peter and Madison. This is one of those instances. Basically, anyone has a 50/50 of guessing the right person. People are looking for more solid answers than that.
If you wanna take it a step further, we can. Look at what we're talking about here. A golf bag. There is nothing in any of Hannah's zillions of IG pictures that ties her to golf. Looks like that was just a photo shoot. And Peter's picture was from an IG story where he was clearly doing an ad for Calloway, so we don't even know for sure if that's his bag. Furthermore, I've played golf for many years. Do you know how many red, white, and black golf bags there are out there? And while they look similar, there isn't 100% definitive proof that those are the same EXACT bags. But for the sake of argument, let's say they are. I still don't get it. Why would either one of them have the other persons golf bag? If Peter and Hannah Ann are doing any sort of Happy Couple visits, they're not playing golf together. Or exchanging golf bags. Or having one leave their bag over with the other. It'd make more sense if in some photo Peter posted, he's wearing something, or has something, that specifically 100% can be linked to once being something Hannah Ann owned. Or vice versa. I think because the finale spoiler isn't out yet, people are grasping at straws for anything they possibly can. But when you get sent the same thing over 100 times yesterday and people think they've stumbled upon the finale spoiler, it's just kinda comical. Nothing about these photos 100% proves anything, like the examples I gave above which did. Those are the type of things I'm interested in. Not golf bags because there's nothing definitive about it.